Automation: 10 things it can do for your business

Posted by Netmatters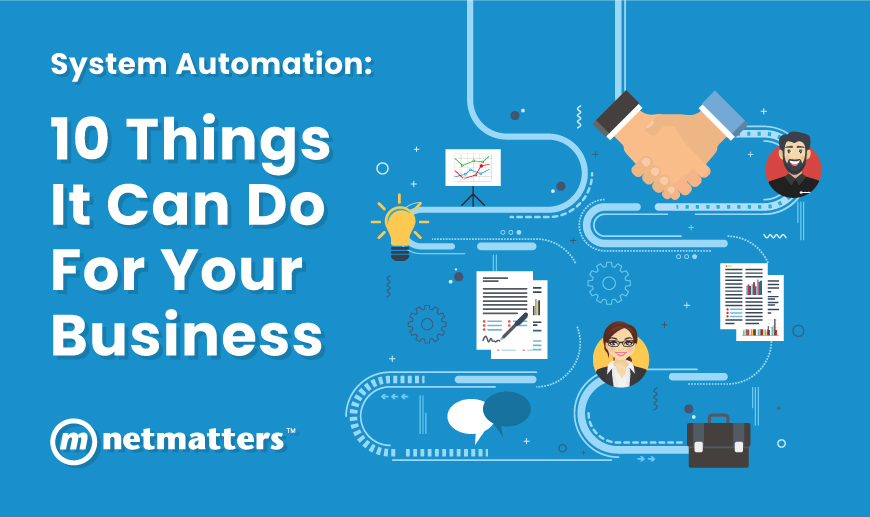 Do you feel like you spend your 9-5 working day completing administration tasks ?
Are you always chasing your tail, trying to stay on top of the day to day?
Would it be easier if someone could take the reins, leaving you to do the things you love?
If the answer to all of those questions is yes, then it sounds like you need to think about automation.
What is automation?
Automation is the implementation of technology to improve service delivery, or contain costs. It is loosely considered to be the integration of applications to reduce the reliance on labour to achieve more consistent results.
A by-product of this, or in many cases now a deliberate result, is the increase of efficiency and the reduction of costs.

Automation has quickly become one of the only ways for companies to deliver continuity and ensure that processes are working to the optimum level. It allows the business to meet demand and continue to grow in all areas.
Let us break down how automation can help you.
Increased profitability through efficiency
The bottom line for every business is just that, the bottom line. Every business is striving for increased profitability and automation is a sure fire way to achieve this.
Automation is the joining of systems and centralising of data. In doing this, you eliminate the need for duplication of information, and the opportunity for errors to be introduced. The centralisation of data ensures all parts of a business are working in harmony and pulling in the same direction.
Whilst there are plenty, a single example of profitability through automation is the treatment of invoices. If a business system is integrated with its accounts package then invoices can be created against a project and be pushed directly into it.

The obvious benefit here is that time is saved on double entry. Beyond this though, behind the scenes, if the system is aware of the invoice status it can alert on receipt of payment and show as paid. For the staff, this means that debt chasing will be simpler, by excluding the possibility of chasing already paid invoices.

More competitive
Most industries are saturated with businesses, meaning that everyone wants to gain that competitive edge. An automated business gains that edge through efficiency, allowing them to achieve the same work product but at a much lower cost to their competitors.
That being said, this edge is not limited to cost. An automated business will be able to dedicate more time to their customers, leading to better overall customer service. Without lengthy periods of required administration time completing standardised tasks, their time is spent on service improvements.
Better customer retention
As a result of this improved customer service and efficiency we see better customer retention rates across the business. Something of critical importance because of course, no customers means no business. Nowadays, customers want expert, consistent service, regardless of what they are asking or when they are asking it. Automation allows you to deliver a standardized service delivery for all areas of the customer experience.
For example, meeting follow ups, account management calls and monthly reports can all be triggered automatically. It allows you to be proactive with what needs to be achieved, highlighting to your customers that the ball is never dropped when it comes to their account.
Centralising this data, also means that any customer feedback can be addressed quickly and dealt with accordingly. In turn, this means issues are resolved quickly, reducing the risk of losing that customer.

Decreased reliance on personnel
As much as we try to prevent it, people move on from jobs, are off sick or are temporarily taken away from the office for various reasons. In a business without automation or centralised data, this could cause a huge headache.
Creating a process that allows all of this to be stored electronically, means that if any of these situations arise, they can still be dealt with, despite the member of staff not being present.
Of course, retaining good staff is key but as a business owner, you don't want to feel beholden or completely reliant on individuals as this can cause risk across the business.By keeping everything in one place, it also means that any new staff that join your organisation, can quickly get up to speed with all of the accurate information.
Ability to change
Systems are often cited as having a negative effect on businesses as they are seen as a controlling mechanism that inhibits diversion from the prescribed processes. But, uncontrolled change is fraught with problems and doesn't allow for the smooth transition from one process to another.
Systemisation allows you to update every step in a process instantaneously, which in turn, allows for an instant, consistent change. This can be used to bring in new pricing, new products or just new ways of working, giving clear guidance to all concerned. It creates an easy workflow process, causing minimal disruption and maximum productivity.
Scalability for growth
What business doesn't want to grow over time and eventually become industry leaders? To do this, your business has to be able to adapt to that growth, with processes put in place to accommodate.
Scalability is greatly increased with an automated system.
Often, the main limiting factor of business growth is the ability of the management or processes to be able to stay consistent, often with manpower or how things are done, stretched to their limits.
If your system contains a clear workflow and process it removes the reliance on management time and allows for infinite scalability.
Better staff retention
Though a system is prescriptive in terms of workflow it usually removes the need for a lot of mundane admin tasks that are required.
Implementing this system means that for your staff, they can shift their focus towards worthwhile activities that not only delivers more to your customers but also provides them with job satisfaction, ensuring they are happy whilst at work.
The other unexpected benefit, from both a staff and managers perspective, is that a centralised system can effectively measure staff performance - objectively rather than subjectively.
This gives staff the ability to see how they can improve and know their performance is being judged fairly, again, keeping them as happy at work as possible.
Decreased risk of issues
Studies have shown that 80% of issues, come from about 20% of the work product. Constantly rectifying problems and addressing things that go wrong, will absorb the management time within your organisation and can result in unhappiness and loss of revenue.
A system that automatically looks for errors or changes, and fixes them means that the need for input is reduced greatly. Also resulting in minimal issues with any changes that are made.
In short, ensuring fixes stay fixed.
Giving your business a brand and personality
The face of your business is of significant importance in the market place. Having an outward appearance that appeals to your customer, is what will drive more of them through your door.
Having a centralised portal where all processes and procedures are stored, you have the freedom to make decisions that work towards a clear set of values or principles, which in turn leads to a clear culture emerging within the business.
This emerging culture will work towards building your brand personality, enticing new staff and customers alike to be involved with a business that is seen as positive culturally.
Increased business value
Systems bring value to a business in terms of monetary worth. A business that has clear workflow and systems does not need to be as reliant on management and is therefore deemed to have greater value.
Smaller, over managed businesses suffer from not being able to decouple the business from themselves at the point they want to sell. The effect on the worth of the business is infinitely debatable but in our experience a business that is systemised is valued at a much higher multiple than those without.
So this all begs the question, how much should we be spending on automation?
Most business under invest in automation, they find it easier to invest in tangible assets and so try to minimise the costs of systems as much as they can.
In our experience, this isn't the most logical approach.
The best way to think about what level of automation is required, should be proportional to the size and success of your business, relative to its sector.
A system can be developed to remove a hefty chunk of administration work and management time. A business should look at its wage bill and consider automation spending in these terms.
For example, if a system can save you two people's salaries on an ongoing basis then spending this on systems will give you a significant cumulative gain as you implement more process automation.
Does this sound like something you need?
We have built bespoke, automated systems for nationwide companies to allow them to deliver more to their customers and we'd love to help yours!
However, we understand that sometimes it's hard to make a change, so if you need more information, we invite you to register your interest for our monthly seminar.
Once a month, we invite local businesses to our Netmatters HQ, for a full briefing on automation and how it can help your business.
Contact us now to find out more on the seminar and how we can get the ball rolling to automate your business!