Ashtons Legal - Best Digital Presence - LawNet Awards 2017

Posted by Lydia Whitney


We'd like to offer our congratulations to longstanding Netmatters client, Ashtons Legal - one of East Anglia's largest independent law firms – in receiving the 'Best Digital Presence' at this year's LawNet Awards presentation held in Oxfordshire on 10 November.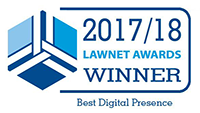 The firm were credited with maintaining a wide-reaching presence across all major marketing platforms, building awareness and trust in the firm's brand and services, whilst showcasing an outstanding digital crisis management strategy.
"None of this would have been possible without the hard work of the Netmatters team"
In June 2017, the Ashtons Legal site was cloned by individuals based in Russia, with a view to capitalising on the brands hard-earned - and well established name - to commit fraudulent acts. The combined crisis strategy, established speedily between the marketing team at Ashtons and Netmatters, resulted in a Cyber Security expert heaping praise on the complete and total handling of this situation, in the industry recognised publication, The Law Society Gazette.
Ashtons Legal Digital Marketing Manager, Vicki Clover said; "None of this would have been possible without the hard work of the Netmatters team. The judges were particularly impressed with the manner and speed in which we dealt with the cloning incident, so extra special thanks go to the team who worked with me on this."

As a result of implementing an integrated, overarching, digital marketing strategy across the course of the year, the Ashtons Legal website saw rapid growth; with highly-engaged website traffic seeing a rise of over 20 per cent, year-on-year.
Enhancing our client's digital experience, reacting to potential issues and ensuring their brand is visible to the most profitable customers, is our business. We continue to generate proven results for our clients nationwide.
If you're interested in discovering more about how we can help you boost your digital marketing strategies, contact us via the form below, or call us on 01603 515007.