Are You Ready For G.Fast?

Posted by Netmatters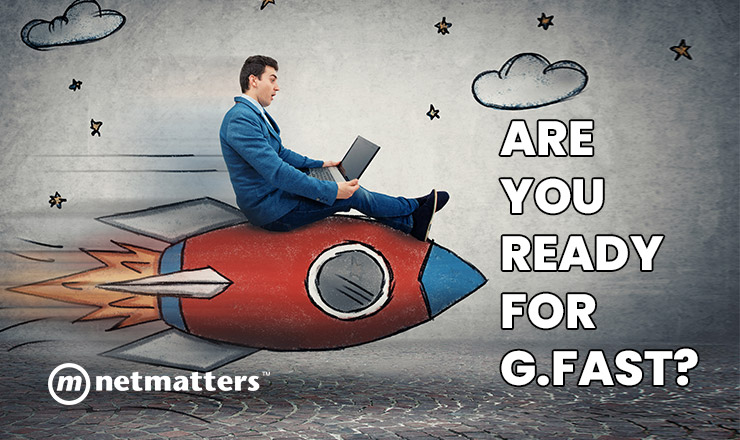 As more applications become cloud-based, the need for a fast and reliable connection is now a necessity. The right data connection and sufficient bandwidth will allow you to keep up with the latest technologies and software updates giving you an edge against your competitors.
But with so many different connections, what is even determined as the fastest?
Out With The Old…
FTTP is a premium service that allows for higher speed internet access into your premises, whereas, FTTC is a standard service resulting in much slower internet access.
Due to the way FTTP functions, most buildings have been unable to benefit from the higher quality, faster connection and were stuck with FTTC, however with the introduction of GFast, millions of people can now benefit from higher internet speeds.
…In With The New
If you haven't heard, GFast internet is cutting edge technology that allows customers access to speeds of up to 330Mbps, with one of the most attractive elements being that the new connection uses the current FTTC infrastructure.
GFast works in a similar way to FTTC in that it uses the same cables as FTTC, however, an upgrade is fitted to the cabinet. This increases the speed through the cables to the premises which then delivers reliable, ultrafast broadband speeds of up to 250Mbps quicker than before. What every business wants right?
So, Where Can You Get It?
At the moment GFast is only available in certain locations. Whilst the aim is to be in 10 million homes by the end of 2020, there is still some way to go.
In exciting news however, Norwich is now a GFast location. Although at this time, lot of businesses still haven't tried to adapt the new technology and are therefore struggling with slow download and upload speeds. You don't want to be one of those businesses!
Here at Netmatters, we are pleased to announce that we can assist you with getting the fastest connection available to you.
Maximum of 160Mbps Download and 30Mbps Upload - £50 a month
Maximum of 330Mbps Download and 50Mbps Upload - £55 a month
How Can We Help?
Our team of expert technicians know all there is to know about GFast broadband so that we can help your business stay at the top of its game, whilst supporting you with our on-going aftercare service.
Our prices can be seen above, but for further information or to discuss your requirements with an expert, please fill in the form below or call us on 01603 515007.