9 Questions To Ask When Selecting A Business Telecoms Provider

Posted by James Gulliver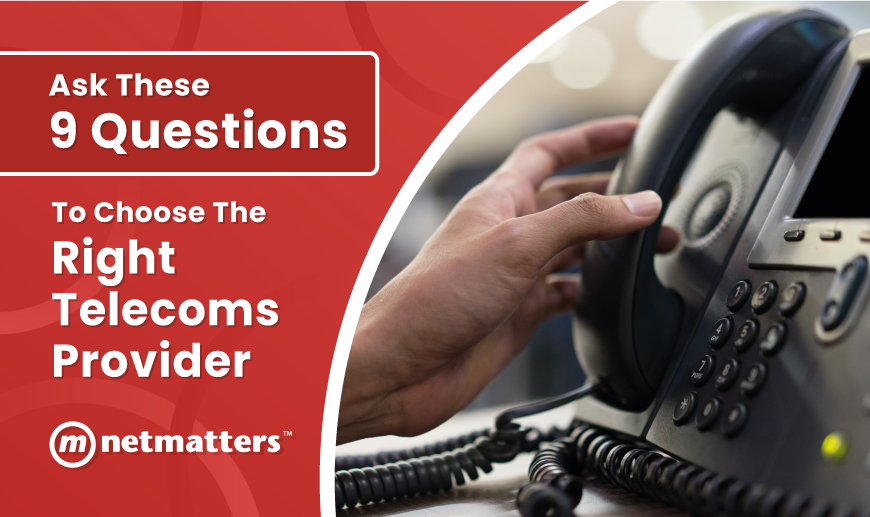 Communication continues to be one of the most important administrative concerns for many businesses; you need to ensure that your telecoms system is reliable, scalable, easy to use, and affordable.

When selecting a new business telecoms solution the considerations are almost endless. The features and benefits of each system, coupled with the differences in the support offered by a provider make for a difficult decision process. Here are some key questions to ask that should help with your decision process:
How long will my contract be?
Telecoms contracts are normally 3 to 5 years, with the cost of the hardware spread out along the term as well. If you prefer a shorter contract, you can opt to buy the hardware upfront and reduce your contract lock-in period.
A 2 to 3-year contract with a 30-day rolling notice period after that seems reasonable. You don't want to be changing providers too often, and there are usually discounts for longer-term contracts, so finding a balance is important.
Are there any contract add-ons I should be aware of?
Historically, some telecoms providers have employed the rather unscrupulous practice of extending the contract length if additional handsets were required by a business. This is less prevalent with VOIP systems, but it is still worth making sure you don't fall foul of this by asking if there are any additions to the contract you should know about.
Additionally, you should be aware of exactly what the "cost per seat" entails. If you are looking for things like call recording, voicemail, and a smartphone app ensure there are no costs to be added on for these.

Is the telecoms provider a reseller, and at what level?
Ultimately, all telecoms providers are a reseller of either connectivity from a network provider or various services piecing together their phone system solution offering.
You need to be wary of the lower-tier resellers who are not only reselling the network but also reselling the phone system hosting and support. The issue here is to do with their control over support of the service.
A lower-tier provider will be much less able to solve problems directly, as they have to wait for the issue to be resolved by their supplier. Lower-tier resellers have less direct access to suppliers.
With a lower-tier reseller, you run the risk of being met with a generic response of "There is a problem with the upstream provider" when reporting an issue.
Ideally, you want a telecoms provider that hosts the phone system themselves, that way they will have full control of the phone system solutions environment and be better able to resolve your issues directly.
Is there phone support?
Many telecom providers keep their costs down by offering "ticket only" support. Whilst the issues you face should be few and far between, being able to speak to a human and explain your problem can be invaluable, especially in a time of crisis.
If there is telephone support provided make sure you ask who this will be provided by. Some telecoms providers offer outsourced telephone support without letting on that it is.

Is there a clear route of escalation in the event of an issue?
Coupled with access to phone support, you also want to ensure that there is a clearly defined route to escalate if you do experience issues. Look for a company that is proud of their customer service record. Smaller providers tend to be better at providing a clear route to escalation as your business is important to them and they want to maintain a good working relationship with you.
Is the provider creditworthy?
You need to ensure your chosen provider is financially solid and ready to ensure continuity of service. It is possible that telecoms businesses will manage to survive despite being cash poor as the income streams are relatively steady. However, this makes them vulnerable. Bad debt could leave them unable to pay their own upstream providers, which will, in turn, lead to all services being stopped – including yours.
Can you speak to a business that is already using the system?
It is very easy to have a bank of references or case studies that may not be completely unbiased.
If you already know of a business using the services then try to speak to them to get an honest opinion. If you have the time to do so, speak to more than one.
You can also find impartial reviews on sites such as TrustPilot and Google. It is always worth looking for honest reviews when choosing a new provider of any service.

Does the provider have integration abilities?
If your business is already using or planning to use a CRM or other business management software then it would be beneficial for your phone system to be able to be integrated. This will help you to improve efficiency and effectiveness. Even if your telecoms provider is unable to carry out the work to facilitate integration themselves, they should be partnered with an organisation that can help you to do this.
Is the system scalable?
Lastly, all businesses have plans for the future, and you need to ensure that your chosen telecoms provider can deliver what you need, both now and in the future. The system they propose should have room to grow with you, and the costs for this should be explained upfront so there are no hidden surprises.
Netmatters is a full-service telecoms provider based in Wymondham Norfolk. As you might expect we have developed our service to address the main points above to ensure we are both a good provider and cost-effective. We would welcome a discussion on your telecoms needs and are supremely confident that our offering will be worth your time.