Intensive Software Development Course

Posted by Netmatters Ltd
11th September 2019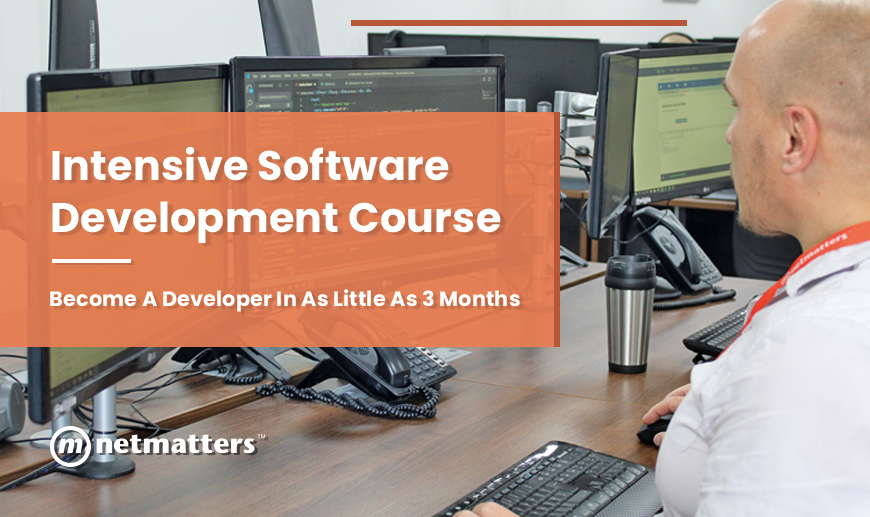 Education Complete & Summer's Over – What Now?
Over recent years, the digital skills gap in the industry is fast expanding and already it sits at a level that can't be filled quickly enough. In the UK this year, it was reported that the number of pupils sitting the ICT exam offered by schools was 40,000 less than the previous year.

These stats are a result of schools finding it difficult to recruit teachers skilled enough to teach students and produce sufficient grades. The fact that computers are now an essential part of everyday life may also have had a part to play, people are naturally more tech-savvy than they were 10 years ago, without having to take an exam. For employers looking to recruit with a wide range of tech skills, the GSCE figures are a concern.
Despite these figures, we know that there is still a significant amount of interest in computing and web development across the UK. Our Scion Coalition Scheme has been running for over 18 months now and we receive applications every day. We have trained and positioned many students who are now working in full time jobs as web developers.
What is the Scion Coalition Scheme?
We wanted to do what we could to bridge the skills gap in East Anglia and train people with a passion for web development and coding to a point of employment.

The programme is intensive, hands-on and not for the faint hearted. Working out of a commercial software development department, we balance student's education with development tasks, gaining the skills and confidence it takes to succeed as a developer, with the support and supervision of expert professionals.
In the past, our scheme has operated purely through the Department of Work and Pensions, however, we understand that the interest in web development is a much wider market. With this in mind, we have opened a 'self-funded' option to complete the course.
Calling All 6th Form & College Graduates!
If you've just finished sixth form or college and your summer is over but you don't know which direction to take, the Scion Scheme could be the perfect course for you. Our 'no experience' necessary web development course, offers those with an active interest in computing a chance to develop their career in a professional environment.

The course takes around 3-6 months to complete and currently has a 100% success rate. We require you to be with us 40 hours a week, Monday-Friday like any other employee of Netmatters. This will enable you to make fast progress but also gets you acclimatized to the developer working environment.
Despite being a student, you will still accrue holiday and receive our company benefits, just like a regular employee, however in return, we would expect you to work like a Netmatters employee including reporting sickness.
The course is primarily online learning with the assistance of other students who you will work closely with on collaborative projects, creating an all-round positive and comfortable environment for you to learn in.
How Can I Get Involved?
If you think that our course is the next step in your path, great!

The self-funded web development course requires you to apply directly for the course. You would be asked to go through the usual interview process needed for every applicant and if successful, we will ask you to come back for a trial day before offering you a place.
As mentioned, the self-funded entry into the course means that a one-off fee is required and in return, we can hand deliver you a set of skills that can be taken with you and utilised in every stage of your web development career.
Sound good?
Get in touch with us today using the form below or by calling us on 01603 515007 to start your web development journey!