Using Both SEO & PPC to Increase Revenue - Natures Grub Case Study

Posted by Netmatters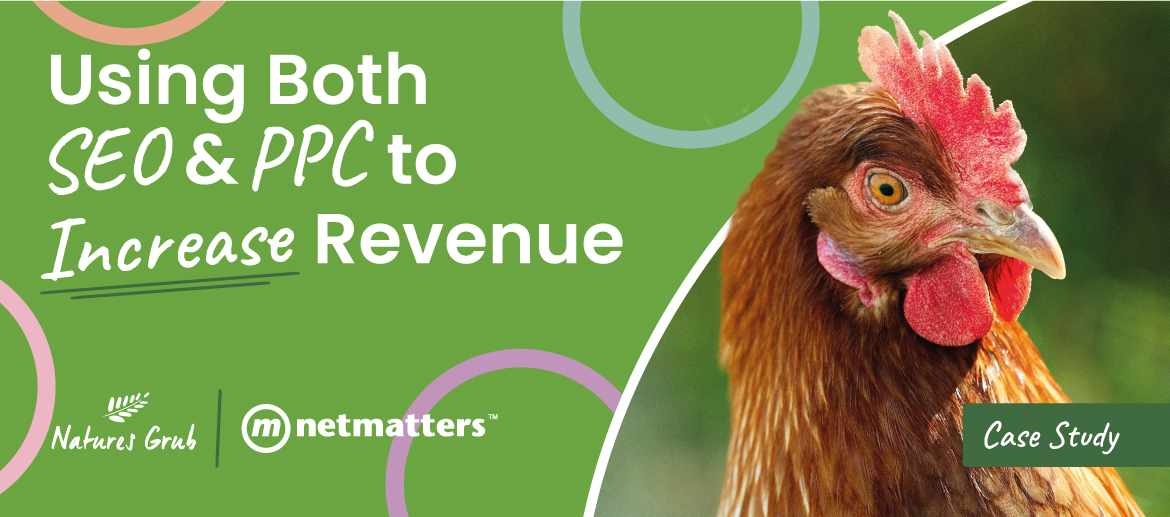 Utilising both paid and organic channels is key to developing an effective digital marketing strategy that will generate significant growth in both traffic and revenue.
This case study showcases how, over the past two years, our digital marketing team have utilised both key elements of search engine marketing – Search Engine Optimisation (SEO) and Pay-per-Click Advertising (PPC) – to generate rich results for Norfolk-based pet food supplier, Natures Grub.
The Client
Natures Grub is best known for providing a wide range of own brand animal feeds for a variety of small animals. As demand grew for natural pet food for other animals, Natures Grub expanded their offering by creating adjacent sites to satisfy this demand: Horse Herbs, Bunny Bistro, and The Fish Food Warehouse.
The Challenges
Natures Grub approached us with the goal of wanting to increase traffic, and subsequently drive sales, across all of their e-commerce platforms.
In order to achieve this, a number of key issues needed to be addressed:
• Lack of website traffic and results through search engines.
• Search listings for all the websites were not showing on the first page of Google.
• Conversion rates across all sites were low, specifically for new users.

The Solution
To achieve these objectives, the team devised a comprehensive digital marketing strategy that encompassed both SEO, and PPC, in order to maximise both organic and paid channels respectively.
Our SEO strategy had the core objective of boosting the search engine rankings for all four of the e-commerce websites, providing greater online visibility in order to increase traffic volumes. To execute this, we:
Conducted extensive research to compile a list of keywords that we wanted to target for each site, prioritising high-volume keywords with low competition so our changes could make a significant difference quickly.
Assessed and updated all of the metadata on the site to ensure that it aligned with our new list of keyword targets.
Conducted extensive optimisation across all key pages on the site, including adding in keywords, as well as more technical tasks such as adding internal links to related pages, and boosting the overall user experience to increase user engagement and the likelihood of them making a purchase.
Our PPC marketing strategy looked to generate consistent, high-value traffic by placing search engine adverts in front of users searching for products similar to those offered by the client:
We conducted another round of keyword research for each site, focussing on terms with low cost-per-clicks, high search volumes, and low competition densities, allowing us to maximise the returns within the budget.
We created adverts that effectively reflected the enquiries of the target audience to encourage users to click through to the product pages. We continuously monitored all campaigns on a weekly basis to identify inefficiencies and opportunities, optimising the campaigns accordingly to maximise their performance within the set budgets.
Results
Our SEO work had an immediate impact on traffic volumes, with each site rapidly rising up the search engine results page:



PPC Results
Through the constant monitoring of campaigns, we have been able to maintain an exemplary Return on Advert Spend (ROAS) across the four e-commerce sites:



Due to their great success, Nature's Grub has recently launched True Dog - an E-commerce website supplying dog food, treats, supplements and more.
What Does the Client Think?
"We have been working with the team at Netmatters for around 2 years and they have really helped to push our websites to the next level. We have seen website traffic and sales increase tremendously over that period. They have handled all our Digital Marketing which gives us more time to focus on the products and the customers!
Brian went on the say:
I would highly recommend Netmatters to anyone who is looking to grow their website's online presence, they provide detailed monthly reports which shows you exactly how your money has been spent and also what changes need to be made to the site to improve customer experience. We also have quarterly in person meetings to go through any queries we have and to make sure everyone is on the same page.
If you're looking for a tailored digital marketing solution for your business that will generate rich results, call one of our offices in Wymondham, Great Yarmouth, or Cambridge and book a consultation with our digital marketing experts, or get in contact via our contact form below.
As Netmatters marks its 15-year milestone, we reflect on the incredible journey of the past fifteen...
Read More

Posted by Netmatters
29th November 2023
Salary Range £26,000 - £34,000 (DOE) + Bonus Hours 40 hours per week, Mon - Fri Location Wymondham,...
Read More

Posted by Rebecca Moore
27th November 2023
Today we celebrate the remarkable achievements of Rebecca Brine as she takes centre stage, championi...
Read More

Posted by Netmatters
24th November 2023