The 5 Levels of Business Automation: What Level is Your Business?

Posted by Netmatters
24th April 2020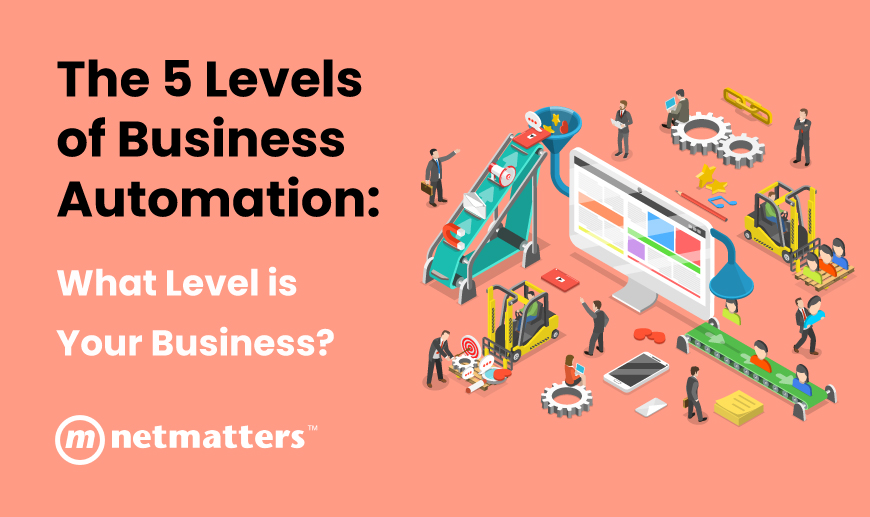 In a competitive market, it is essential for businesses to be able to manage the flow of work efficiently and effectively in order to maximise their profitability.
For the majority of customers, cost tends to be the deciding factor when choosing a new supplier of goods or services. Most businesses within the same industry will have similar costs for their raw materials or amenities, so you need to find a different way to gain ground over your competitors from a cost perspective.
This is where it becomes essential to implement efficient processes which reduce general waste and labour costs – add a positive customer service experience and high quality products into the mix and you are well on your way to becoming a market leader.
Naturally, each of your competitors will be doing the same thing – so what is the best way to gain that competitive edge and be able to make it part of your success?
We believe the answer is systems!
Implementing systems into your business then makes it a simpler process to achieve key things needed to be successful, including; scalability, repeatability, good communication and competitiveness.
Creating an automated system:
Automation is the implementation of technology to improve service delivery, or contain costs. It is loosely considered to be the integration of applications to reduce the reliance on labour to achieve more consistent results.

Automation has quickly become one of the best ways for companies to deliver continuity and ensure that processes are working to the optimum level.
It also allows the business to meet demand and continue to grow in all areas.
In fact, if you evaluate a business against its level of automation you will quickly see some commonalities in the more successful businesses.
Let us break it down for you:
The 5 Levels of Automation
We believe there to be 5 different levels of automation which a business can operate towards:
Level 1 – Supervised Direction
This is where most small businesses start. Usually they are owner managed with most of the work also overseen by management to ensure the business is profitable.
Whilst this may be an effective process in the beginning, it doesn't create scalable opportunity beyond a few staff, whilst also lacking in consistency for workflow and service delivery.
Level 2 – Reactive reporting
This level sees the business develop to begin to keep logs and records for all that the business does.
Usually this would involve lots of spreadsheets which control different parts of the business. This starts to provide clarity of the business data but can quickly become laborious and fairly inefficient. You may also find that during this time, duplicate work appears, which requires time and resources to rectify and manage properly.
Level 3 – Basic Workflow
Here we see the implementation of basic workflow. This means a unit of work is moved through the various stages of its development in clearly defined stages. A good example of this would be the stages of winning new work for your business. The statuses may be: prospect, quote, job, project or invoiced. Clearly identifying each stage of the journey provides staff with a clear understanding of how that customer is moving through the funnel and what needs to be done and when.
Whilst moving to this level is a vast improvement on the previous, it still lacks substance in that issues are still very reactionary and there isn't an easy way to manage all stages of the process. If the data is not available in a format that allows a business to be proactive, it would create an impossible task trying to stay on top of everything.
Level 4 – Proactive Management
Here we see the puzzle completed for most businesses by delivering proactive management of Key Performance Indicators, KPIs. KPIs evaluate the success of an organization or of a particular activity in which it engages and can be based on anything deemed relevant to measure by the company.
Example KPIs might be volume of quotes sent on a rolling 30-day basis or the number of calls made by a salesperson. These would be put in place to allow managers to quickly see the current status of any part of their business and make proactive changes before problems arise.
Level 5 – Artificial Intelligence
This should be considered the holy grail of automation. This level should deliver intelligence from data analysis by looking for trends and changes that you haven't yet thought about.
A good example of how this could be done is through an AI or machine learning program that identifies the number of emails sent to and from a particular client has changed and notifying the relevant member of staff as a concern or something to investigate.
Usually, this is the stage where many businesses will look to implement an off-the-shelf system that provides the basic functionality required to be able to operate at this level.
Whilst it may seem like a good option at the time, eventually, you will be limited to what can be achieved through this system and business growth could be halted.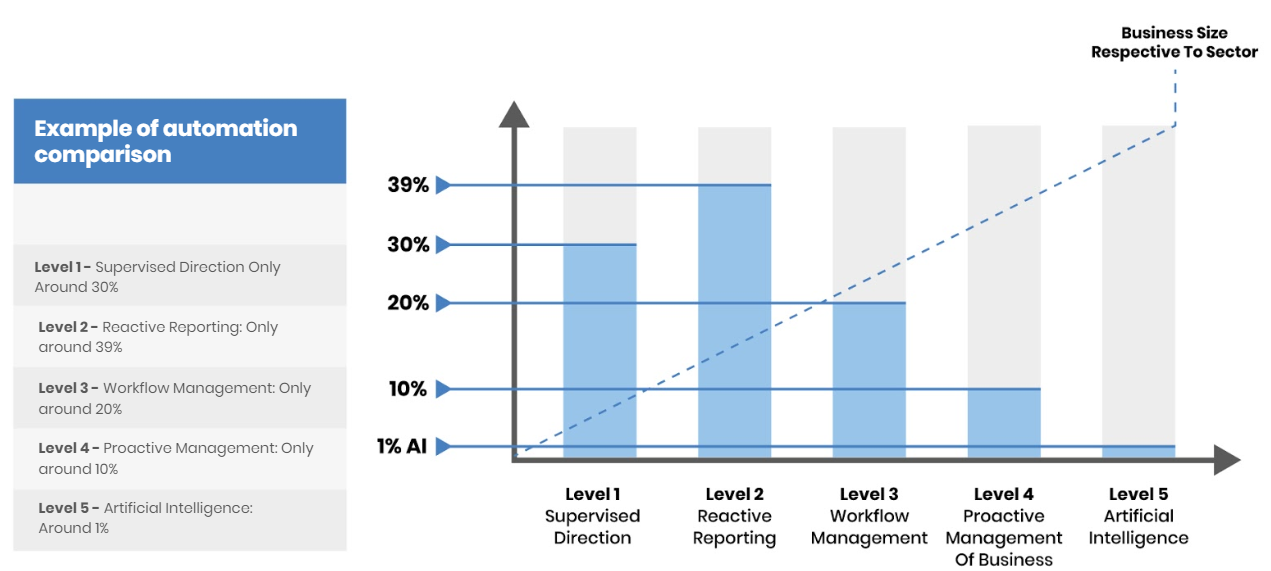 What does it mean for my business?
In reality no business has all of its processes completely lined up, but has a blend centering around one stage. The main commonality however, is that businesses who are further down the automation road are likely to be a large player in their sector as they are surpassing the competition in the key areas mentioned above.
Overall, it also means that businesses further forward in the automation process are less location dependant, something important to consider in the current climate.
With a centralised system and the use of key tools such as 3cx, you could essentially pick up your business and move it anywhere, whether that be a new premises or currently, home working. Work can be completed at the same high standard, driving your business forward.
Going Bespoke
As part of our on-going growth plan at Netmatters, we've found the benefits of implementing a bespoke automated system have been massive.
Sofia, our AI, works double time to be able to deliver more for our business. The way we have developed her allows her to manage all aspects of our business from invoicing to holiday management. It's such an extensive system that we have been able to go completely paperless in all internal aspects of our company.
Given that Sofia is bespoke to our business, it means that we can add and change processes or features as we deem fit. We are not tied to the limitations of a bought programme which means the sky is the limit for what we can achieve. More can be found out about Sofia here.
It's also been hugely beneficial for a number of businesses that we work with, one of which is a leading manufacturer, who came to us with specific requirements to overhaul their whole workflow process and are now working at a Level 5 for automation. More on that project can be found here.
Does this sound like something your business needs to grow?
If this resonates with your business and you believe it could be something that helps you to achieve your overarching business objectives, we are keen to discuss your requirements to see how we can help you.
If you feel you need more understanding of automation and what it can do for your organisation, we are also offering a free monthly, remote seminar surrounding the topic, hosted by two of our directors.
We encourage you to get in touch with us on 01603 704020 or using the contact form below to start the journey to the next level of automation.