Premier Resourcing Case Study

Posted by Netmatters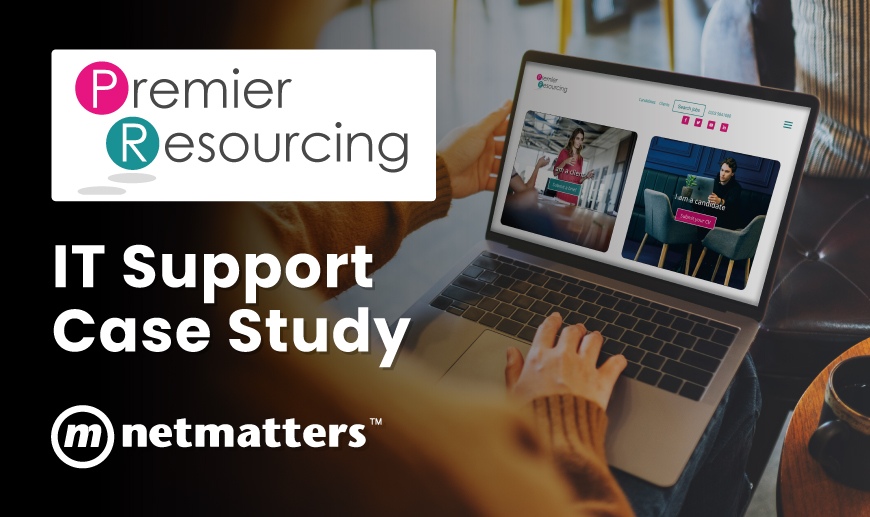 It has never been more important for businesses to have effective IT support and cyber security in place, especially with so much sensitive data being available online.
People are investing more time and money into high quality solutions to prevent the risk of sensitive data being compromised and limiting the opportunity for hacks.
Our client identified their own need for appropriate IT support for their organisation and contacted us to understand how we could help them.
The client:
Premier Resourcing are a specialist Public Relations, Digital and Integrated Communications recruitment agency with a Cambridge head office and a second location in London. Their dedicated team are a group of passionate ex-PR professionals, experienced recruiters and rising stars, offering a proactive and results driven approach to all things recruitment. They consult and work collaboratively to ensure they maintain long-standing relationships, partnering talent with the most relevant role for them.
This year, they decided it was time to take their IT management in-hand to ensure they had the most suitable support for their business, and as a precaution to prevent the worst from happening.
The problem:
In short, the main issue for Premier Resourcing was complete reliance on a third party supplier with no control over their own infrastructure. It meant they were unable to manage anything in-house, and were unable to standalone, should they need to.
The set up in place meant that machines were connecting virtually to their provider's data centre in order to work. They regularly found problems with the service, and as a whole, were not satisfied with the product that they were receiving.
This made IT related issues difficult to manage and resolve which in turn meant that the business was more at risk of external threats and any other issues that may arise. It didn't make for a streamlined work flow and problems took much longer than they should to resolve.
They were on a journey to find a solution that benefited their business effectively – this is where we came in to assess how we could help.
What we did:
With any business, our main objective is to do what we can to future proof their IT. Providing an outcome that continues to support the organisation as it grows, along with giving expert support where it's required.
Our first step was to assess the existing set up and determine what already existed. It was imperative that we looked at all areas of their current support package to decide what would be the most suitable solution, and provide technical recommendations that would address some of their needs.
With all of the machines within the business connected to the server owned by another company, it meant that they were completely reliant on that company.
The main goal for Premier Resourcing was to migrate their systems so that they could operate independently should they require it. We set to work coming up with an effective roadmap as to how we were going to pull the server away from their existing provider and create a way for their IT to operate in a way that served all of their needs.
We discussed their requirements and evaluated their infrastructure to conclude that a robust, provider-agnostic, cloud-based system would fit best for them.
The results:
Of course, the main objective for us with this project was to provide a solution that made them completely self-sufficient.
Working collaboratively, we migrated their files, CRM and emails over to SharePoint, Azure and Office365 respectively, meaning that they were not dependent on any one single IT provider. This means that all of their data is stored in one centralised location that can be accessed on site, across sites or remotely depending on the requirements of the staff.
In operating on a system that is digitalised, they are also now able to benefit from frequent updates which can enhance their security, their productivity and how they go about their day to day operations. Having this robust security protocol in place means that sensitive data isn't at risk. Additionally, should any issues arise there is a process in place to deal with it.
Throughout the process, we ensured that our communication was constant, clear and concise, meaning minimum disruption and a smooth workflow for everyone involved.
Primarily, this change has given the client the freedom to work from anywhere, without the need for an additional IT provider if they don't feel like they need to.
For us, it's been a great project to get stuck into – providing an expert service and giving the client the solution they needed. We are pleased to say that although not beholden to Netmatters, Premier Resourcing have recruited us as their ongoing IT Support provider based on the merits of the service we've provided.
We are looking forward to seeing how this collaboration progresses and seeing the business grow.
If you are interested in discussing moving your systems to a standalone solution, please do get in touch with us to discuss it further.
News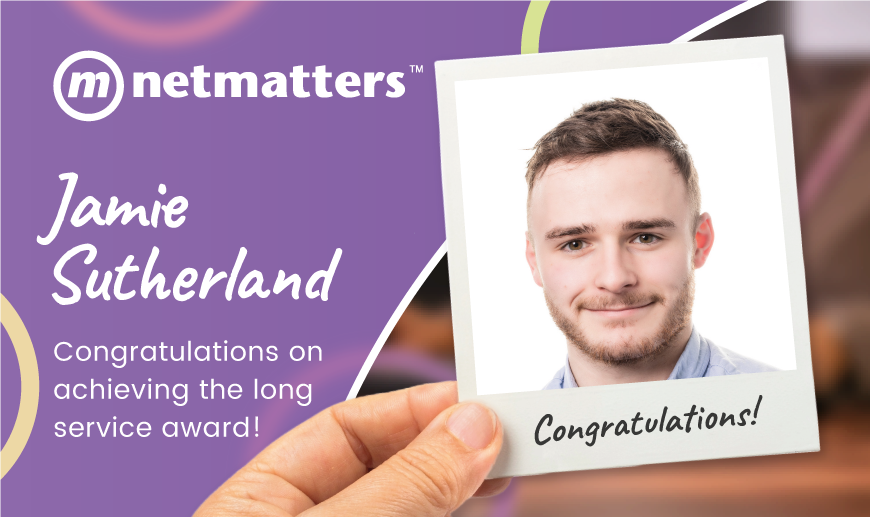 Jamie Sutherland – Netmatters 5 year Legend Today, we celebrate the extraordinary accomplishments of...
Read More

Posted by Netmatters
5th December 2023
As Netmatters marks its 15-year milestone, we reflect on the incredible journey of the past fifteen...
Read More

Posted by Netmatters
29th November 2023
Salary Range £26,000 - £34,000 (DOE) + Bonus Hours 40 hours per week, Mon - Fri Location Wymondham,...
Read More

Posted by Rebecca Moore
27th November 2023