Netmatters Achieves Gold Carbon Charter Award

Posted by Netmatters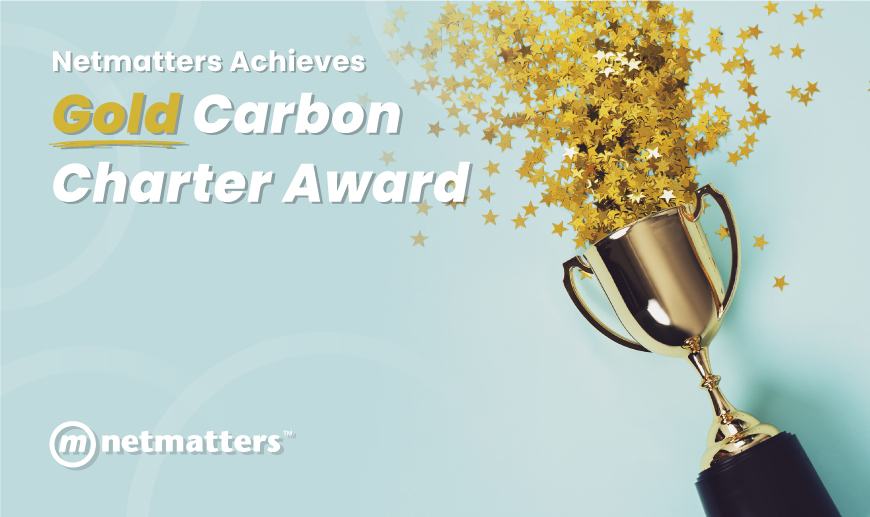 Almost two years ago to the day, we were thrilled to receive the Silver Carbon Charter Award as hosted by Green Suffolk back in 2019. It is a pleasure to announce that Netmatters has now received the Gold status of this fantastic award!

The Suffolk Carbon Charter is an award recognising carbon reduction measures in Suffolk's small and medium businesses. This award is for businesses that do not employ a full-time energy manager or have a rigorous Environmental Management System. It is rewarded based on an independent assessment carried out by qualified auditors which is rewarded in 3 levels.
Bronze – the business takes its carbon impact seriously.
Silver – the business has significantly reduced its carbon emissions.
Gold – the business is an exemplar of low carbon management.
As we have seen since the Silver achievement in 2019, even the most unexpected changes and scenarios can occur. One thing that is never uncertain, however, is the pride and focus that we have upheld in recent years, here at Netmatters. Establishing ourselves as a locally recognised agency for our successful environmental consciousness is one of our biggest successes.
Netmatters Gold Accreditation
As a business, we continue to actively encourage our staff to do all they can to support us on our journey to becoming a carbon-efficient business, we do what we can to help make that as easy for them as possible.
It started with us becoming a paperless office – you'd struggle to find any notepads or printed documents in our buildings. With everything on a centralised system, it reduces the need for continuous printing.
So, what's been the big changes seen since the Silver award? Achieving Gold status requires attention to fine details and innovating our everyday functions to be as eco-efficient as possible. For example:
Receiving confirmation of our carbon neutrality.
Perfecting our Home Working Policy.
Introducing electric company cars.
Achieving the Carbon Literacy Certificate.
Introducing the Cycle to Work Scheme to all of our team members.
You can read all of our environmental articles here: https://www.netmatters.co.uk/e...
As a business that does everything digitally within the office, we are hyperaware of the importance of lower power consumption. We do this through lower power consumption monitors and ensuring that when something isn't being used, it is switched off. For our team, we also encourage car-sharing to reduce the impact of the engine fumes that result from commuting in and out of work.
Recently, we have also kept a sharp focus on the importance of the COP26 global climate summit which is commencing very soon. You can find out more on COP26 with Carbon Charter's latest articles:
The Future:
The Gold status is the pinnacle of Green Suffolk's Carbon Charter Award. However, this does not mean there is no room for further improvement. We will always strive to make innovative changes in all areas of our business, we value those small changes that create a big impact.
As we become smarter as a business, we are always on the lookout for ways to improve our offerings to ensure that we are reducing our emissions as much as possible. Stay tuned to see how we make those improvements over the coming months!
For more information about the charter, head to http://www.greensuffolk.org/