Easters of Norwich Case Study

Posted by Netmatters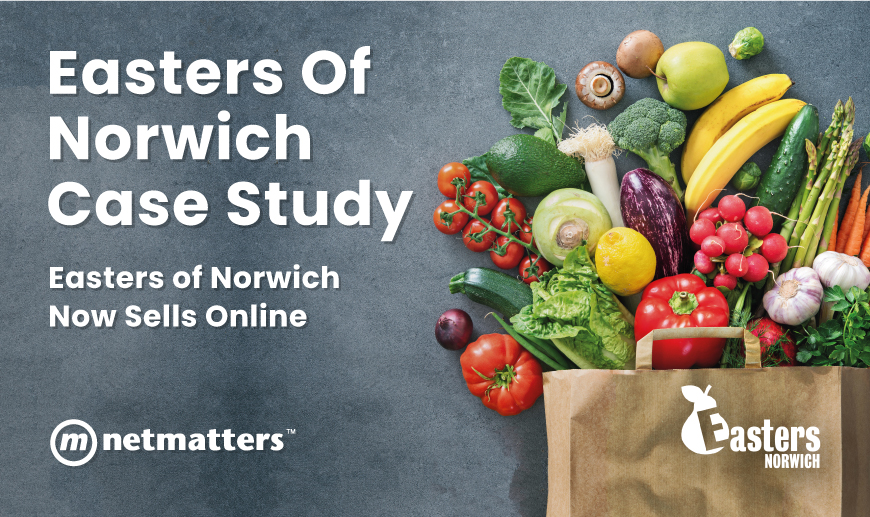 In a digitally adopted world, e-commerce websites are leading the way in revenue generation, reaching wider audiences and delivering a faster, more convenient shopping experience.

In the recent circumstances, businesses, who might previously have only operated in the physical space, have been looking at new ways to be able to keep their doors open, to provide the same expert service and product to their customers and keep their business alive.
Conversely, many e-commerce businesses have been able to not only continue working, they are thriving because they offer the opportunity for people to continue shopping whilst adhering to the government guidelines.
Noticing this trend, one of our long-standing customers, Easters of Norwich, identified a need to change the way they were doing business recently. They came to us to see how we could assist with keeping their business operational during this difficult time.
We jumped at the chance to be able to help them.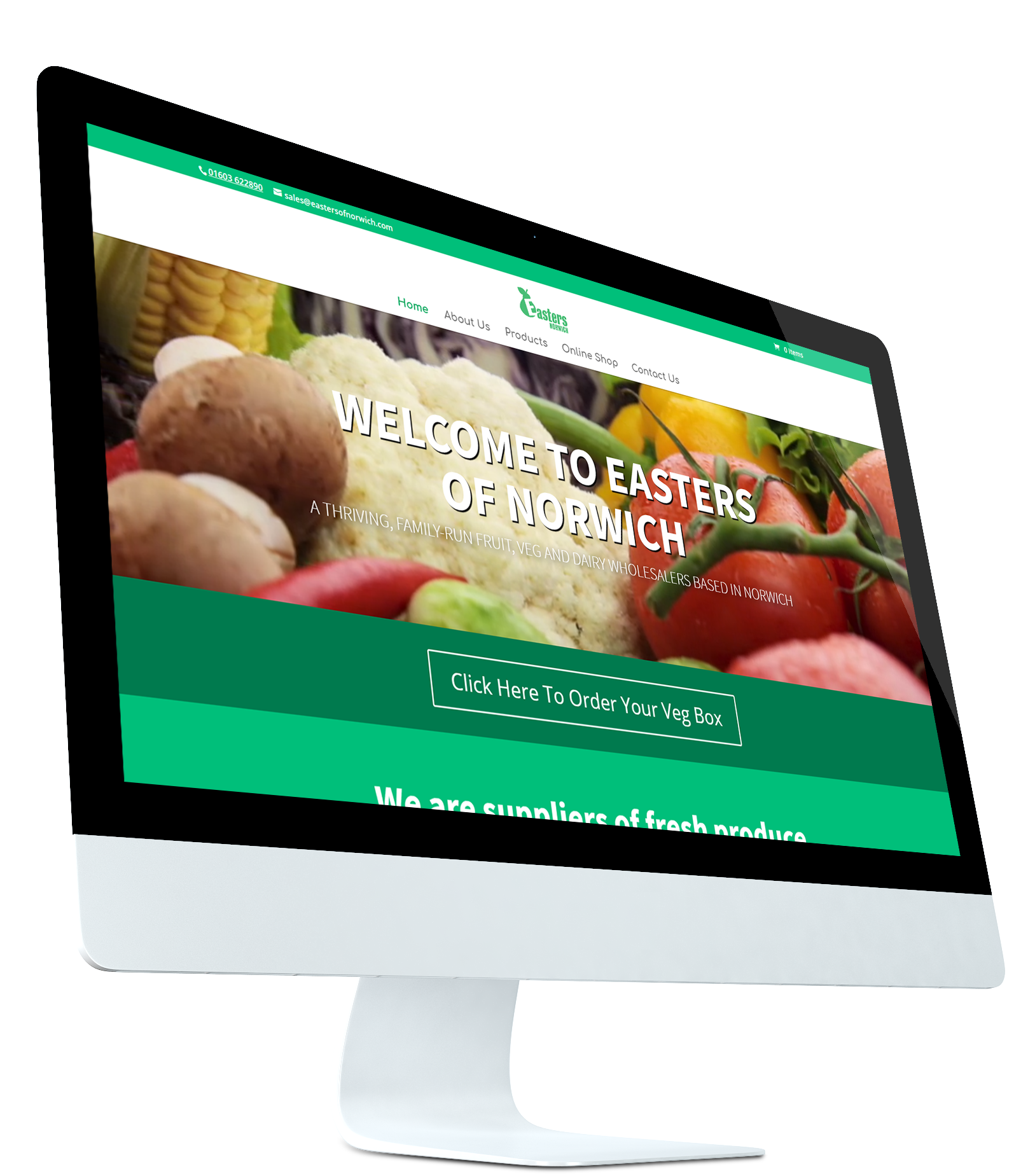 The Client:
Easters of Norwich is a family run fruit, vegetable and dairy wholesaler operating out of the heart of Norwich City Centre. They have been at the forefront of providing a wide range of high quality produce to their customers for over 40 years.Their bespoke hand-prepared vegetable service is unique and they are committed to supplying local produce in all categories, wherever possible.
Easters have an extremely loyal customer base including some of the best-loved places in Norwich. For them, the key is to be able to deliver a quality product with a high quality service, doing all that they can for their customers to get them the produce that they need.
Prior to the Coronavirus outbreak, Easters did have an online presence, however, it lacked the functionality required to sell products online. Their business model as a local business, meant they felt it was not necessary to operate in this way. However, the outbreak highlighted how much they would miss by adapting their online store. They realised it was time for a change.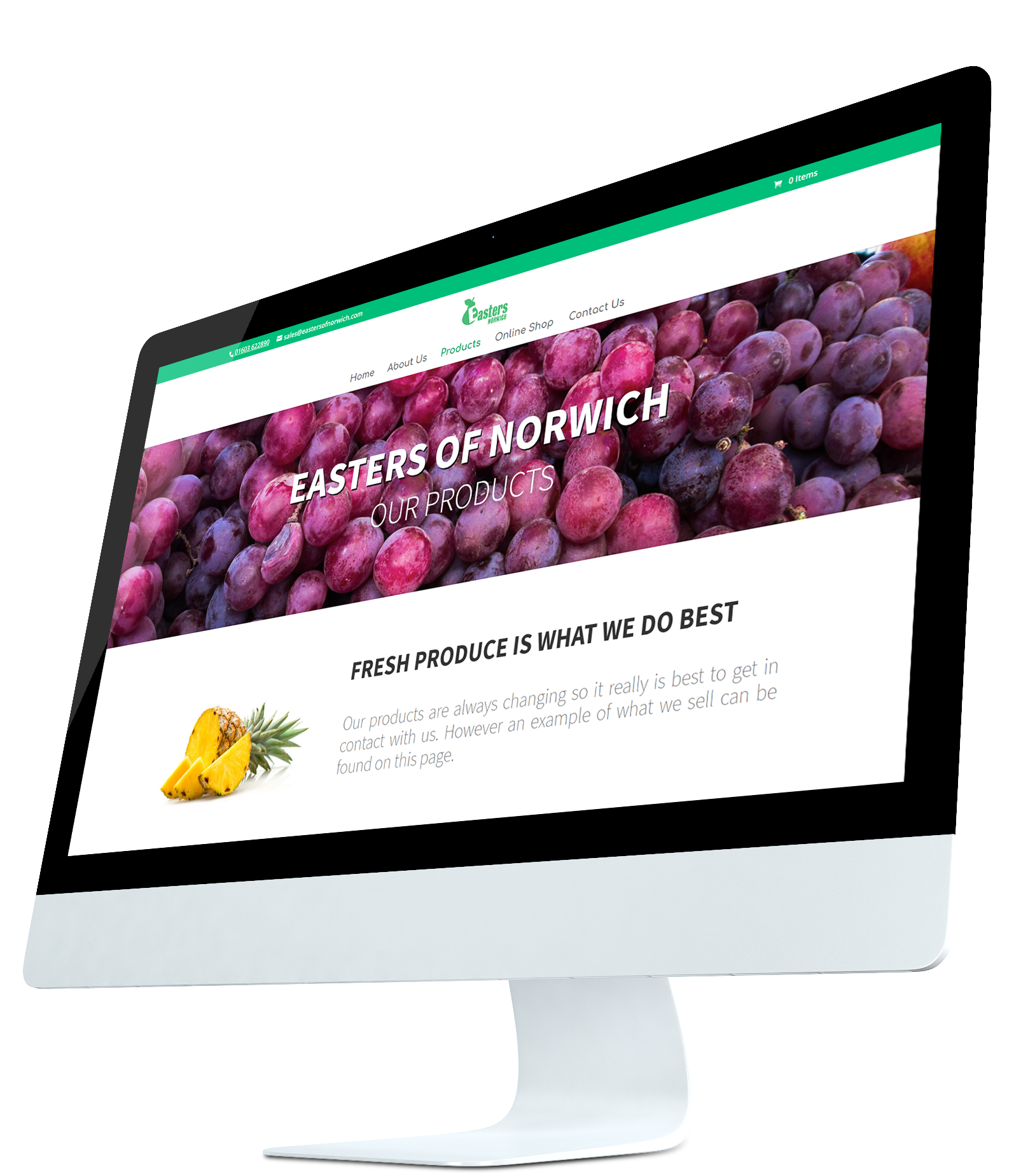 The Problem:
The need for an ecommerce site in these circumstances was urgent so that operations did not have to shut down for a prolonged period.
As part of the new plans, Easter's also decided that they would be launching home delivery boxes. These vary in size, at different price points, and contain many necessities that the customer would require including eggs, milk, fruit, vegetables and bread. Being able to order these boxes online and have them delivered would mean that customers could remain at home as much as possible, as per Government instructions. This meant that it was imperative that we got this functionality up and running as soon as we could.
As the customer would now be primarily interacting with them online for the immediate future, it was extremely important that the brand be portrayed in the right way, that it reflected the exceptional face-to-face service that they deliver.
They were aware that for some users, the website may be their first interaction with the business, and therefore, first impressions needed to count.
They also wanted to keep the website simple for all of their customers. The objective was to be able to keep the business open, so a website that was user friendly and delivered an exceptional service to the end user was key.
From a functionality perspective, Easters needed to be able to monitor and track the number of orders coming through with the relevant information such as order value, customer name, delivery information and the delivery date requested to ensure a smooth workflow process and that their customers received their goods on time.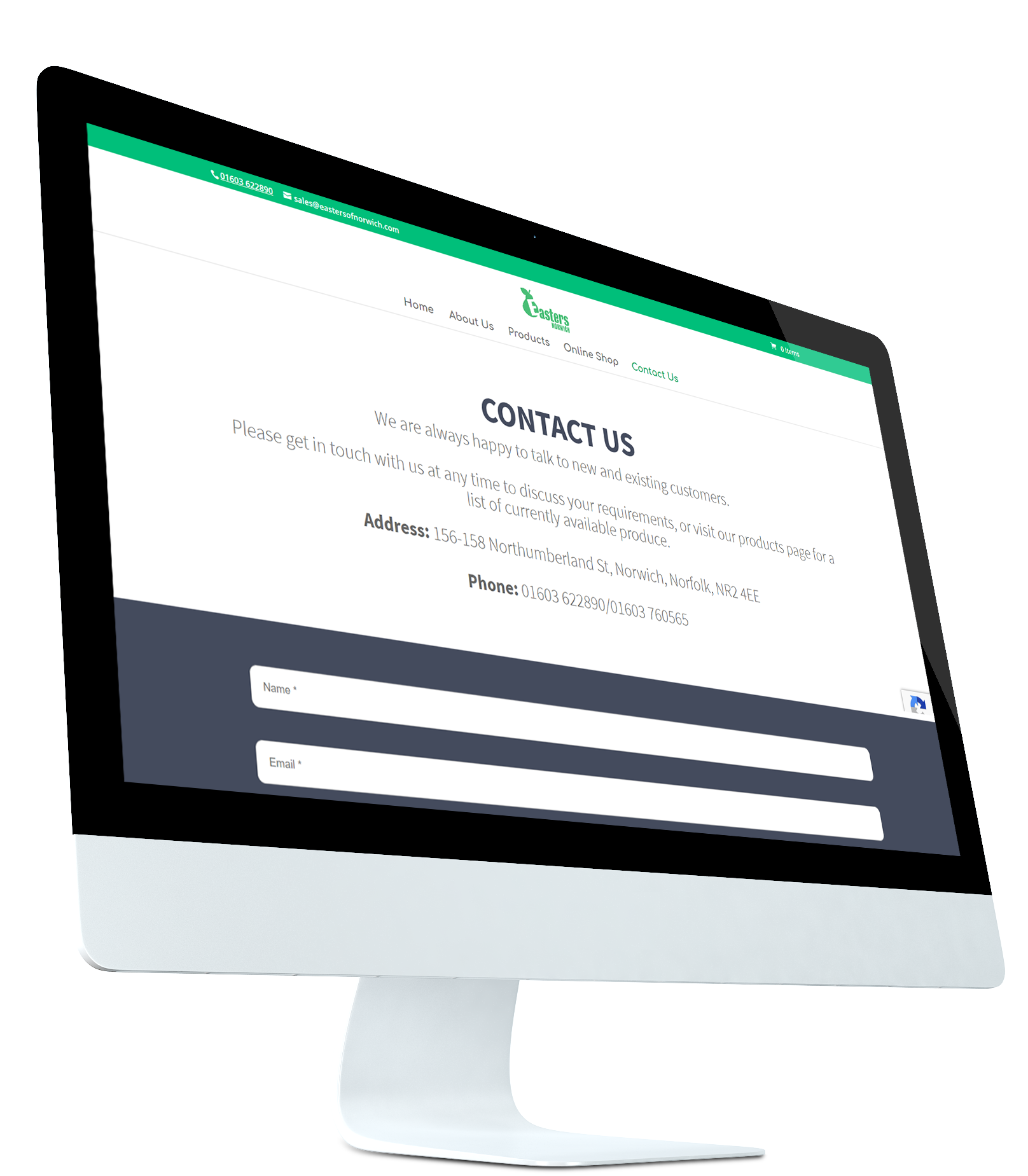 The Solution:
We reviewed all of the objectives and requirements for the website and decided that the best process would be to keep the website clear, concise, and to the point. A website that contained all of the relevant information those customers would need.

The key for us was to not overcomplicate the site, to ensure a streamlined user journey, allowing customers to move through the website & find what they need easily. The site already had a homepage, an about us section, a complete list of the products available, and a way for customers to get in touch quickly. For us, the online shop – which at this point was the key functionality needed, was where we focused our attention.
We created a straightforward page on the site, which would sit in the main navigation menu. We filled this page up with optimised text detailing the new product available, with appropriate key terms that we believed customers would search for, making us more discoverable. We also provided details on each box available, along with high quality imagery to highlight the products in a way that would entice the customer to purchase.
To deliver the online ordering functionality we found the best solution to be implementing Woo Commerce on the site. Woo Commerce plugins can be added to any WordPress site, enabling you to sell products through your website. It allows for secure payments, shipping options and other features that you would need to be able to run an online store effectively.
Adding this meant that Easters could take down customer details, including card information, securely, along with the delivery date selected, storing everything in one location that could be reviewed by multiple members of the business. This ensured a smooth production line, getting the boxes out to customers in a timely and professional fashion, maintaining the same high quality service.
Another helpful feature that the website offers is the option to be able to add more products to each box. Whilst each is already filled with some great necessities, Easters wanted to ensure that customers could add more should it be required, again, all part of that expert service.
Regardless of the size of the box you choose, you can add more items from the extensive product list available. Each product offering is categorised, with individual prices and weights added, making it easy for customers to choose and add them to their order.
Following the completion of the website, it was important to implement tracking functionality to be able to accurately measure the success of the websites performance. This allowed us to look at the number of visitors on the site, how they behaved whilst browsing and the number of orders that were created.
This data provides the foundation for any improvements or changes that would need to be made across the site from a user journey or functionality perspective.
The Results:
So far, the results we have seen from the site have been extremely positive.
Since the functionality went live and tracking was implemented 6 weeks ago, we have seen more than 7000 people arrive at the website, mainly arriving through organic search – or in simpler terms, being found by a generalized Google search.
This shows that the website is highly discoverable, which will improve Easters opportunity for orders and reaching a wider customer base.
When it comes to orders themselves, Easters have been inundated so far, with a conversion rate of almost 10%, which will definitely keep them busy!
This high conversion rate acts as a testament to the ease of using the website to place an order and highlights the effectiveness of the payment functionality that has been implemented.
As the circumstances of Covid-19 continue, we expect to see these numbers only increase further as the site becomes more prominent in search results and word of mouth about the service begins to spread across the area.
We are excited to see the performance of the site over the next few weeks and months and will be on hand to support Easters with any changes or new things they want to add as the online business grows.
For Easters, moving to e-commerce has been extremely beneficial to their business, do you think the same could be said for your own?
If you are looking for help in moving your business online, we want to help you.
Give us a call on 01603 704020 or get in touch using the contact form below to discuss your requirements.
News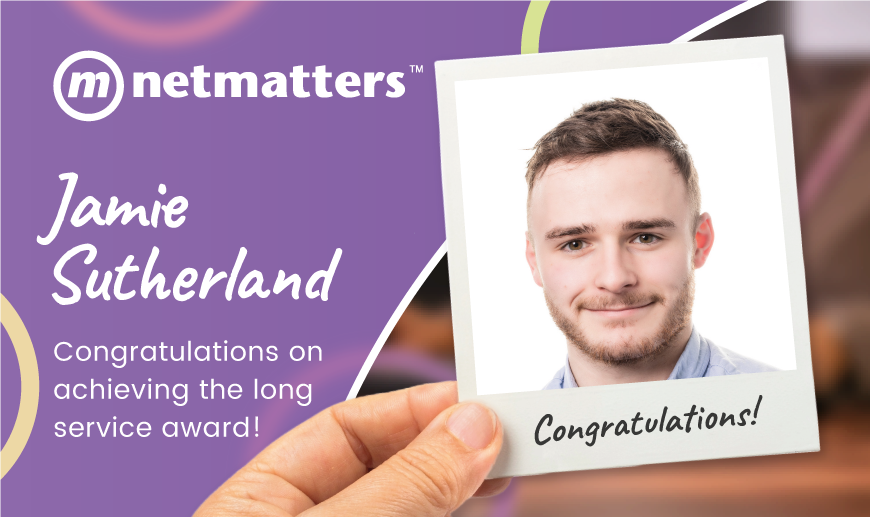 Jamie Sutherland – Netmatters 5 year Legend Today, we celebrate the extraordinary accomplishments of...
Read More

Posted by Netmatters
5th December 2023
As Netmatters marks its 15-year milestone, we reflect on the incredible journey of the past fifteen...
Read More

Posted by Netmatters
29th November 2023
Salary Range £26,000 - £34,000 (DOE) + Bonus Hours 40 hours per week, Mon - Fri Location Wymondham,...
Read More

Posted by Rebecca Moore
27th November 2023