Tourism & Leisure - Increasing Revenue with a Search Engine Marketing Strategy - Searles Leisure Resort Case Study

Posted by Netmatters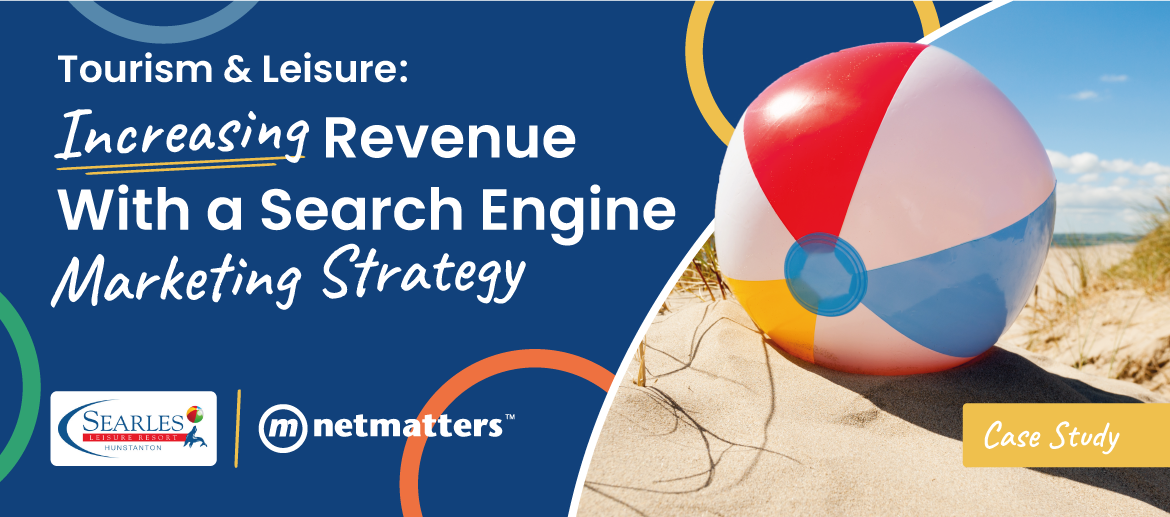 The Client
Searles Leisure Resort, on the beautiful North Norfolk coast, is an award-winning UK holiday resort for families. The client has been welcoming holidaymakers of all ages in Hunstanton for over 85 years, and as multiple times winners of the Norfolk & Suffolk Tourism awards, they are experts at giving the British public what they need: thoroughly enjoyable staycations.
The Need
The client has a successful offering but was in need of greater financial returns through their website. They were active across all the key digital channels, including work in organic social media, SEO, and PPC, but were unable to maximise the value of these channels in order to unlock the full potential of their online presence.

The Process
As a company who not only specialises in digital marketing, but also builds, develops, and maintains websites, our first port of call was to run an audit on the client's website health. Whilst the site has always been clean and very easily navigable for customers, the back end of the site was not optimised for Google and was damaging the client's search engine positioning.
We focused on making the biggest impact in the shortest time for the client by tackling the aspects of SEO, such as the site health score, that would generate the most benefit for the client in time for the busy Easter holidays - a key revenue driver for our client.
Additionally, we took over all Pay-per-Click advertising activity - driving 'in-market' users to the site and capitalising on holiday makers that are searching for terms which align with our client's offering. We not only focused on finding existing customers by targeting brand terms, but also attracted users in the research phase of the user journey whilst they were still evaluating their options.
When SEO and PPC are managed in a way where regular and consistent improvement is the key focus, they work hand in hand to improve the performance across both channels. By utilising both key channels on Google, we were creating a 'snowballing' effect that significantly boosted the profile of the site.
Aside of our digital optimisation work, client communication is key at Netmatters to ensure that our objectives align with the clients. We are delighted to have developed a strong relationship with the client throughout this period by way of regular communication and engagement, resulting in a strong marketing strategy that is highly personalized to the client's needs and expectations.

The Results
The results from our cross-channel digital marketing approach have been very positive:

As our relationship and performance grows, we are very excited about developing how we build out the wider strategy with our client, having recently taken on the social media for Searles. The outlook is looking Sunny for Searles and Netmatters.
What Does the Client Think?
"We enlisted Netmatters in early 2022 to focus on our SEO & PPC for both Searles Leisure Resort & Heacham Manor Hotel. The results and interaction from the team have been phenomenal with increased traffic and conversions and much healthier websites. Following the success with this part of our work, we brought them on board to assist with the social media accounts and most recently blogs. Netmatters have exceptional attention to detail with a major benefit being that they are locally based and understand the area really well. They bring exceptional ideas to the table and are always keeping us updated on any issues or upcoming trends which may assist in the performance of the business and brand."
How Can We Help You?
If you are looking for a digital marketing strategy to help grow your online presence. Contact our digital marketing experts by calling 01603 515007 or fill out the form below to book a consultation.
As Netmatters marks its 15-year milestone, we reflect on the incredible journey of the past fifteen...
Read More

Posted by Netmatters
29th November 2023
Salary Range £26,000 - £34,000 (DOE) + Bonus Hours 40 hours per week, Mon - Fri Location Wymondham,...
Read More

Posted by Rebecca Moore
27th November 2023
Today we celebrate the remarkable achievements of Rebecca Brine as she takes centre stage, championi...
Read More

Posted by Netmatters
24th November 2023