Business Automation: Take Your Business to the Next Level

Posted by Netmatters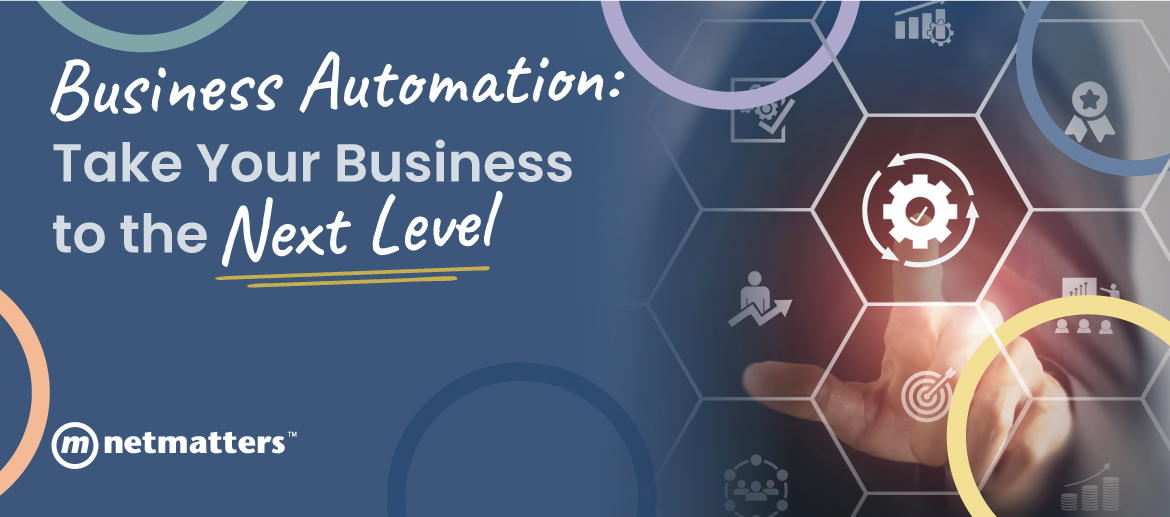 In this article we explain everything you need to know about business automation, and why your business should be adopting it in 2022.
What is Business Automation?
Business automation describes the use of technology systems to perform repetitive business tasks that are typically completed by employees.
This concept creates value by allowing people to spend less time undertaking laborious business processes and instead focus on performing activities that are of higher value to the organisation. For example, instead of a manager spending time manually reviewing employees' time reports for logging errors, a bespoke software system could automatically scan through time reports and alert the manager if any inconsistencies were found. This allows the manager to spend more time focusing on improving business performance.

Why Adopt Automation?
It is evident that adopting business automation makes for a more efficient workflow by minimising manual involvement in tasks. Machines have the capability to perform multiple tasks at one time, at a speed that is unattainable for humans, and with minimal errors. With machines able to accurately execute workloads and fulfill tedious tasks, there becomes an opportunity for workers to focus on more complex activities. For example, we implemented a task management system for Black Swan Care Group's maintenance staff which automatically prioritises and assigns jobs throughout their homes, saving the work of an administrative team. Similarly, by creating a centralised smart heating system across all of their homes, temperatures can be reviewed and altered from one location, saving significant man-hours across all their locations.
In addition to this, business automation solutions promote more consistent and fluent results that are free from human errors. For example, we have implemented a quality control system for manufacturer Warren Services whereby workers enter technical details for each project into a central system which can then flag if there are any inconsistencies or errors. Thus, manufacturing processes are far less likely to hit snags, resulting in significant efficiency gains.
How Can Business Automation Be Used?
Business automation can be used across almost every area of your business. Here are a few examples:
Marketing
Businesses can implement customer relationship management (CRM) systems that allow them to send mass communications to their clients.
Human Resources
Management systems for human resources can save significant time and manpower by automating processes such as the management of employee training/onboarding, as well as reviewing and indexing job applications.
Sales Processes
Sales bots can be implemented on-site to direct customer enquiries to the correct departments, whilst systems can be implemented to automatically prioritise leads, provide value scores, schedule initial meetings, and even send out invoices.
Finance & Accounting
Bespoke systems can integrate with accounting platforms such as Xero to automatically process quotes and payroll, opposed to requiring staff to complete these stages manually.

The 5 Stages to Reach Business Automation
If you are looking to adopt business automation, there are 5 key stages of development. Each stage provides a deeper level of automation, resulting in further efficiency gains that your business can realise:
Stage 1 – Supervised Direction
Most companies begin their journey with being owner managed, where almost all the work, whether that is business processes or more profitable tasks, are overseen by management.
Stage 2 – Reactive Reporting
This stage introduces data reporting into the business. A decision will be made to ensure that logs and records are kept digitally, allowing managers to manually analyse performance and enact changes. However, without appropriate data management integrations, all of this information is stored across an abundance of spreadsheets, meaning that key insights are hard to access, and any data integration needs to be completed manually.
Stage 3 – Basic Workflow
At stage 3, we witness the implementation of basic workflows, with business systems implemented to perform functions such as sorting data, managing staff tasks, processing financial information, and everything in between. This leads to significant gains in efficiency by removing the need for managers to complete manual sorting and reviewing tasks, as is the case in stage 2. This frees their time for higher-value work for the business, as seen in stage 4.
Stage 4 – Proactive Management
This is where proactive management in the form of Key Performance Indicators (KPIs) is initiated. Integrated software systems can hook into all key data sources and collate key business data, automatically calculating pre-defined KPIs and alerting key decision-makers in the business when there is any significant movement in these figures. By automating the collation of key data and KPI reporting, an organisation saves a significant amount of time, whilst also having access to accurate, comprehensive performance information, allowing them to make smarter strategic decisions in line with their objectives.
Stage 5 – Artificial Intelligence
At the final stage of business automation, the integrated business systems can deliver intelligence from data analysis by looking for trends and significant changes that the human mind could not construct. These kinds of complex AI insights will give an organisation a competitive advantage over rival firms who are unable to identify the same opportunities and threats, allowing for a greater level of agility when reacting to both internal and external developments.
How Can Netmatters Help?
Netmatters has developed bespoke software solutions that can save you time and money. With everything on one easy-to-use platform, this system will provide you with the resources to allow your business to mature and grow. If you are interested in learning more about our software and workflow solutions, get in contact with us today.
Netmatters have a large team of experienced developers who have a track record of delivering effective business automation solutions for a range of clients over the last 15 years. We have partnered with a plethora of reputable firms, such as Black Swan Care Group and Warren Services to implement principles of business automation into key business processes.
Knowing where to start can be daunting, so it is essential that businesses seek expert advice to determine where business automation will be most effective in your business and to create a suitable plan for its implementation. If you are looking to adopt business automation into your business, we are on hand to discuss your requirements and advice on the most effective solution.
To book a free consultation, contact one of our offices in Wymondham, Cambridge, or Great Yarmouth, or fill in the contact form below.