Improving Efficiency With a Bespoke Software Solution - Warren Services Case Study

Posted by Netmatters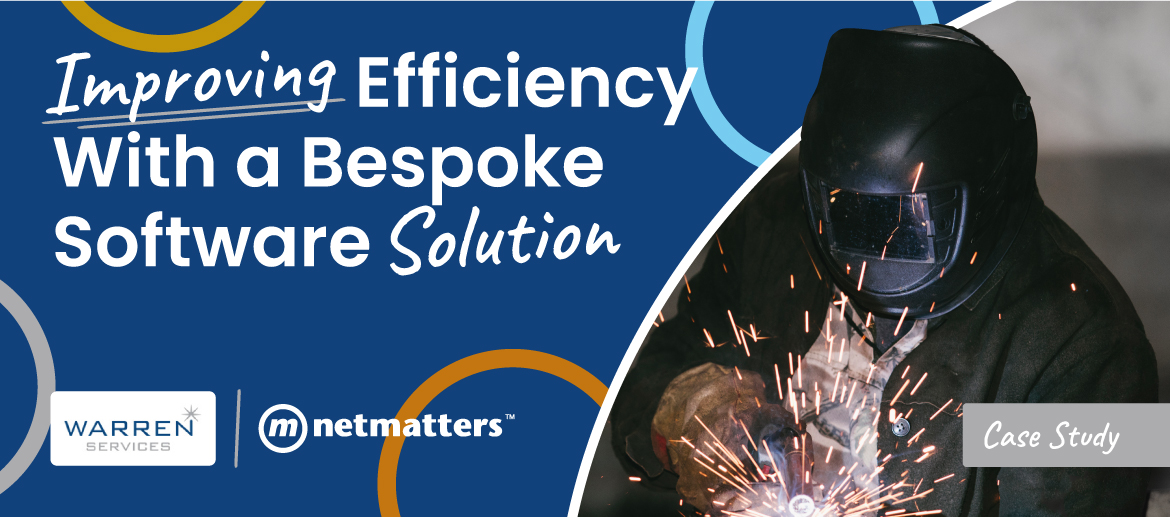 At Netmatters we have a proven track record of building software solutions that improves the efficiency of business processes and workflows.
This case study showcases how we gradually built out an existing ERP system for our client that centralises all of their key information in order to optimise their key business operations.
The Client
Warren Services, founded in 1990, manufactures high-quality components and mechanical/electrical sub-assemblies, offering turnkey solutions in engineering and design. They are committed to setting the industry standard with key values of exceeding expectations and remaining agile to the changing requirements and organisational situations of their partners.
The Requirements – What Was the Problem?
Working out of multiple manufacturing locations, Warren Services operates on a large scale, with a significant amount of technical data needing to be shared internally across their manufacturing projects.
The client uses an on-premise ERP system that had limited functionality in this regard, being unable to deliver and communicate all the key information required for a technician on the shop floor to progress a manufacturing job. This created numerous inefficiencies through double handling as the technicians assembled the information.
This limited functionality also created significant managerial challenges. For example, paper job sheets were used to record time spent on any one project, leading to a large amount of manual data input and subsequent discrepancies in reporting. This left managers unable to properly analyse performance and identify areas for improvement within their processes.

What Did We Do?
We developed a strategic plan to gradually build out the functionality to solve these problems whilst not disrupting the workflow of the current ERP system.
We first built connectors to allow us to access the data directly from the on-premise database. Key project information was then centralised in a bespoke cloud-based software now known as 'Warren Web', which made job-specific data accessible to shop floor technicians. This functionality was then extended to include a document management system to expose all required drawings for each job right to where they were needed.
We then built timekeeping functionality into their existing ERP to give the client a more robust, accurate, and time-efficient method for recording and tracking employees' working days.
We then focused on quality control, implementing functionality that ensured that key manufacturing details, quantities, and inspections were being logged by shop floor technicians. The system can then identify any discrepancies and automatically alert managers, thus refining the manufacturing process.
What Was the Result?
Centralising all of the key project information has improved workplace efficiency by reducing double handling when completing processes, whilst ensuring that technicians are not having to manually locate critical data and drawings needed for completing jobs. This also gives managers better oversight over ongoing projects, saving a significant amount of time gathering information.
Additionally, more comprehensive and functional reporting mechanisms have given managers the tools to effectively optimise and implement strategies to further improve their workplace processes.
Finally, by implementing quality control functionality, the client can also identify and stay on top of discrepancies in the manufacturing process, minimising potential snags and thus increasing the efficiency of their operations.
"I like the fact we now have everything in one place. All the drawings are in one place allowing us to be more agile. I can log onto the Warren Web and can see all details around that job in one place which has saved lots of time. It also helps with reporting and passing quality alerts to operatives.

"I like the fact that I can log into Warren Web and see all the details around a job in one place. It saves lots of time, allows us to remain agile to changes, and makes reporting on performance much simpler." – Lee Charlton, Operations Director
How Can We Help You?
If you are in the market for a bespoke software to centralise your data and improve the efficiency of your business processes, then we can help. Contact our software development experts by calling 01603 515007 or fill out the form below to book a consultation.
As Netmatters marks its 15-year milestone, we reflect on the incredible journey of the past fifteen...
Read More

Posted by Netmatters
29th November 2023
Salary Range £26,000 - £34,000 (DOE) + Bonus Hours 40 hours per week, Mon - Fri Location Wymondham,...
Read More

Posted by Rebecca Moore
27th November 2023
Today we celebrate the remarkable achievements of Rebecca Brine as she takes centre stage, championi...
Read More

Posted by Netmatters
24th November 2023