One Traveller - Web Case Study

Posted by Netmatters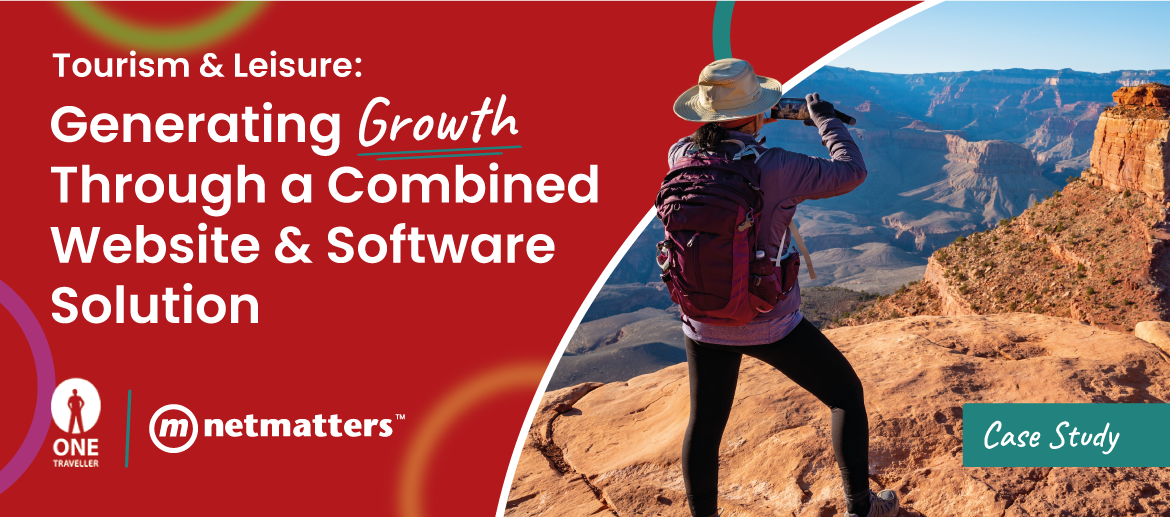 This article showcases how a combined website and software solution can be implemented to create an efficient digital eco-system that both supports, and promotes growth.
The Client
One Traveller, founded in 2007, is a leading provider of solo holidays for over 50s. As an award-winning travel company, they have successfully grown their number of tour destinations and bookings over the years, providing an unparalleled personal travel experience that keeps their customers coming back. The client ensures all guests receive a stress-free holiday booking experience, with all excurions and tours escorted by professional Tour Managers.

Requirements – What Was the Challenge?
Over the course of our partnership with One Traveller, the client has required a variety of technological solutions, most notably a combined website and software solution to significantly improve online lead generation and streamline their business processes.
Booking a holiday can be a time consuming and stressful task, something more pronounced for the client's target demographic of over 50s who typically prefer a simplified process when browsing and purchasing online. Thus, in order to grow online leads, the client required a new website that streamlined the user experience and simplified the purchasing journey – making it as easy as possible for mature users to book a holiday through the website.
Furthermore, the client's website was also not linked to any kind of automation system, meaning that staff were required to manually process all aspects of the holiday using a spreadsheet once it was booked, as well as having to manually upload each holiday to the website and update their availabilities. As these staff members could only process one booking at a time, this process resulted in a significant administrative burden. Furthermore, this solution was not scalable with business growth as any increase to booking numbers would require the recruitment of additional administrative bodies to process them.
Thus, the objective of Netmatters was to produce a dynamic, easy-to-use website that increased online conversions, along with a business management software solution that could automate key administrative tasks, increasing the client's capacity to scale without incurring unnecessary administrative costs.

What Did We Do?
Firstly, we built a bespoke website that focused on a sleek and dynamic design to streamline the UX for the mature target audience. Users can search through the different holiday packages easily with a simple browsing interface and advanced filtering options such as destination, dates, and holiday type. This was coupled with interactive product pages that were structured to display large quantities of information in a simple, digestible format – allowing users to research the different holidays without feeling overwhelmed with information.
Furthermore, we implemented a customer portal into the website that allows users to manage all aspects of their holiday without needing to contact customer service. This includes making balance payments, modifying key account information, as well as viewing their booking and reward history.
The website was designed to integrate with a bespoke business management software in order to automate key administrative tasks that were previously being completed manually. For example, a custom internal admin system allows staff to input holiday information which then automatically pulls through to the live site. A task system was also designed so that, when a holiday is booked, all of the steps needed for fulfilment are automatically fired to the relevant personnel to complete. Furthermore, by integrating this system with Xero, we have been able to automate key financial processes such as creating invoices when users book a holiday or forming credit notes when a refund is requested.
Finally, we also added a secure internal customer database to house all key client information. This includes guest profiles, enquiries, bookings, and departures, allowing staff to access important information easily and securely.

The Result
The first clear result has been the increased purchase likelihood created through the website and the customer portal. Streamlining the user journey has created a more positive experience on the site to improve online conversion rates.
Firstly, the streamlined user journey on the website has better aligned the client's touchpoints to their target audience. As a result, they can be more confident in providing a satisfying and engaging online experience for new and returning customer, increasing their likelihood of purchasing. We are also now working to optimise the site's conversion rate further as part of our ongoing SEO project.
Furthermore, by giving customers an easy way to manage their trip, the customer portal has acted as a strong motivator for conversion by mitigating the fear of spending time sat in customer service queues. Also, by giving users an easy way to view their reward points, the portal has increased the likelihood that a user will re-use the brand next time they book a trip.
However, the most significant result is the lifting of the administrative burden brought about through the automation of key business processes. For example, by automating accounting functions through Xero, tasks such as invoicing and creating credit notes no longer need to be completed manually, saving weeks' worth of work each month. Similarly, the task-based system has reduced the time spent by managers delegating tasks within the order fulfilment process, as well as mitigating the risk of individual errors such as steps in the process being missed.
These automation projects have thus significantly reduced One Traveller's reliance on recruiting new staff in order to grow, giving them a much greater capacity to fulfil the additional online demand brought about through their new website solution.
"Throughout our partnership with Netmatters, they have consistently provided outstanding technical outcomes that have facilitated our business growth. The introduction of the new website has significantly assisted us in generating leads, something which we can feel comfortable taking on as the bespoke system takes care of much of the heavy lifting. If you are looking to grow your business, I couldn't recommend Netmatters more"

How Can We Help You?
If you are a business looking to explore a digital solution that can transform you business processes and facilitate continued growth, we understand how challenging it can be to know where to start. This is why Netmatters are offering free, no-strings-attached consultations with our software and website specialists. This is an opportunity to talk about your business and its needs, allowing us to advise on which solutions could make a difference, as well as providing an idea of costings and timescales.
To book your free consultation, contact us by calling our offices in Norfolk, London or Cambridge on 01603 515007 or fill out the form below to discuss the requirements of your new website with our team.

As Netmatters marks its 15-year milestone, we reflect on the incredible journey of the past fifteen...
Read More

Posted by Netmatters
29th November 2023
Salary Range £26,000 - £34,000 (DOE) + Bonus Hours 40 hours per week, Mon - Fri Location Wymondham,...
Read More

Posted by Rebecca Moore
27th November 2023
Today we celebrate the remarkable achievements of Rebecca Brine as she takes centre stage, championi...
Read More

Posted by Netmatters
24th November 2023