Ashcroft Partnership - Website Build

Posted by Netmatters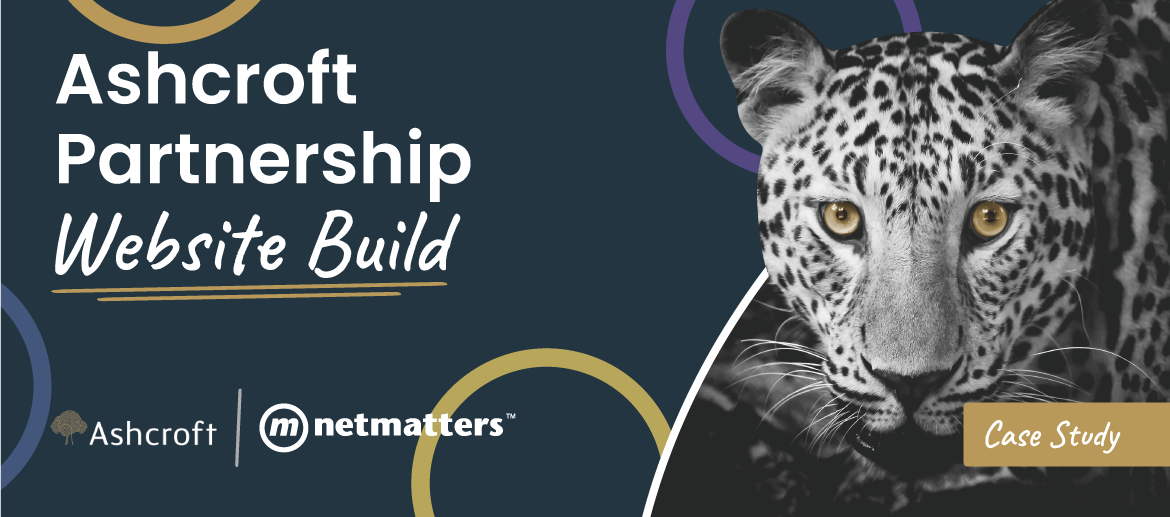 We are committed to partnering with our clients to help build, design, and develop websites that deliver on their vision & expectations, whilst making use of our extensive experience across development, digital marketing, and design to ensure that it is distinct in a competitive, digital environment.
Before the recent buyout of local financial advisor firm Ashcroft Partnership LLP, we were incredibly proud of our new website design that aligned with their rebrand Whilst the site is no longer available, the below article highlights what our design/development teams created.
The Client
Originally founded in 2006 as Ashcroft Anthony, they became Ashcroft Partnership LLP in 2020 and are one of the top chartered accountancy firms in Cambridge, advising entrepreneurs and families. Their services include accounting and tax, auditing, consultancy and advice, and corporate transactions. They also provide services to private clients who require bespoke and complex accountancy.
The Requirements
The client was undergoing a brand refresh, requiring a new website to match their clear brand identity which emphasises delivering a premium, boutique service, and stands out from the competition.
The site was also required to be an effective knowledge hub and lead-generation tool, meaning that it had to be engaging, easy-to-use, and efficient across all devices. It needed to provide prospective clients with an effortless user experience, and clear paths to conversion.

What Did We Do?
We are committed to partnering with our clients to help build, design and develop websites that deliver on their vision & expectations, to set out a clear plan of action and achievable deadlines, maintaining regular communication with the client throughout to ensure that the build was in-line with their own brand and vision.
We designed Ashcroft's website with their core message of uniqueness in mind. Striking visuals combined with a sleek colour-scheme gives the site a clean, dynamic feel, with key words such as 'different' and 'relationship' emphasised to help clearly communicate their brand values.
We have created a fast, easy-to-use navigation menu to ensure users can reach their desired location quickly and easily, whilst a variety of call-to-actions and buttons throughout the site provide extra navigational support and ensure that users are being directed to the most important areas of the site. If users cannot find what they are looking for quickly, they will leave a site, so a well-structured navigation system will be key to keeping users on the site and converting them into leads.
This also extends to the website performance, shown through the new site only taking an average of 1.3 seconds to load, a stark contrast to an average of 3.21 seconds across all websites listed on Google.

How Will This Help Them Achieve Their Vision?
As 57% of internet users state that they won't recommend a business with a poorly designed mobile website (www.sweor.com/firstimpressions), the creation of a fast, attractive and well-designed website will help the client meet their customer's expectations during the user journey.
The simple, user-friendly navigation throughout the site means that the client now has a platform that streamlines the process for any user visiting, without compromising on the new brand image. Whether users are looking for business services, certain specialisms such as leisure and hospitality, property and real estate, or they are just looking to speak to an accountant, the client now has the tools to place their services and expertise at the forefront.
"Netmatters stood out from the start. Great guys and very easy to work with. Both the build and digital marketing teams are clearly skilled -they know their stuff! They delivered a website to our (high!) expectations, on time and to budget and went over and above to ensure we were satisfied clients - and we are!"

How Can We Help You?
If you are in the market for a new website then we can help, contact us by calling our offices in London, Norfolk or Cambridge on 01603 515007 or fill out the form below to discuss the requirements of your new website with our team. We will discuss the available web design and development services we offer to create a unique website that can work for you!
As Netmatters marks its 15-year milestone, we reflect on the incredible journey of the past fifteen...
Read More

Posted by Netmatters
29th November 2023
Salary Range £26,000 - £34,000 (DOE) + Bonus Hours 40 hours per week, Mon - Fri Location Wymondham,...
Read More

Posted by Rebecca Moore
27th November 2023
Today we celebrate the remarkable achievements of Rebecca Brine as she takes centre stage, championi...
Read More

Posted by Netmatters
24th November 2023