Jim Palmer Achieves The Long Service Award

Posted by Netmatters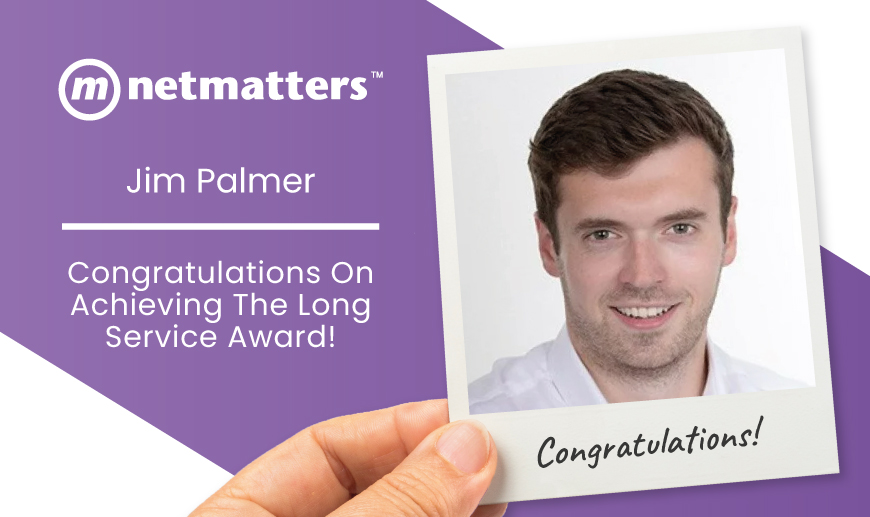 Netmatters would like to take this time to congratulate our Head of Digital department, Jim Palmer, on gaining the 'Long Service Award'!
Jim's name will now be added proudly to the ever-growing list of employees who have worked for Netmatters for 5 years.
Jim joined us back in 2017 as a digital consultant, a role in which his efforts and diligence earned him the title 'employee of the year 2018', shortly followed by his promotion to Head of Digital department in 2019.
"Thank you for your 5 years of service with Netmatters. You are a highly regarded and respected team member, who has developed and progressed considerably within this time, being an instrumental figure in the growth of both our Digital and Web offering." – Elliott Peacock
As part of Jim's 5-year Legend status, Netmatters have planted a further 250 trees to our Ecologi forest to help improve our carbon footprint! You can see the latest progress of our Ecologi scheme here.
The 'Long Service Award' is just one of the ways that we ensure that all of our employees feel valued for their hard work and dedication.
Are you interested in joining a company that can provide you with a great career opportunity? Maybe you could be a recipient of the award in years to come…
Netmatters are always looking to hire bright and talented individuals so if you'd like an informal chat – even if we're not advertising for your specific role – don't hesitate to send your CV and cover letter here. Find out if you'd be suitable for any current vacancies today!