Remove Manual Processes to Make Your Business Profitable

Posted by Netmatters
10th May 2022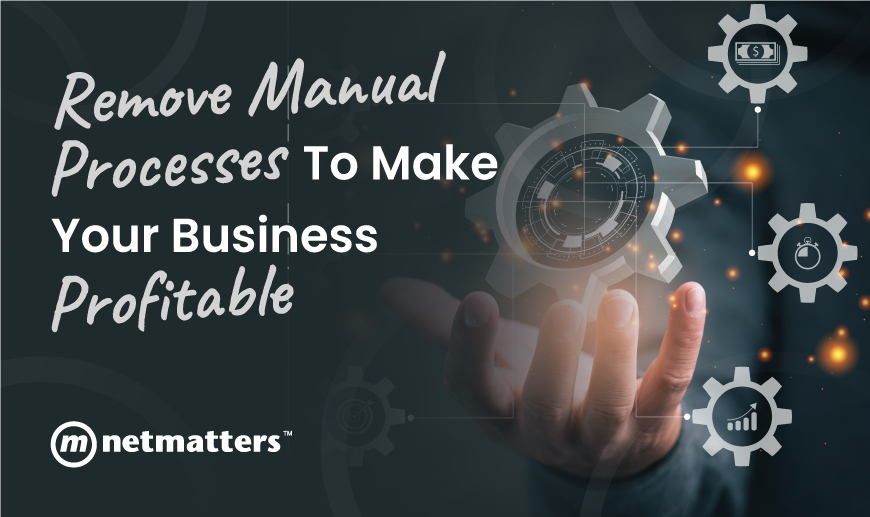 Do you:

…find yourself frustrated with repetitive and tedious daily tasks?
…wish you knew about issues before they become a concern?
Removing manual processes with the addition of automating these tasks can save you and your business both time and money.
What Is It and How Can It Benefit You and Your Business?
Completing manual tasks is costly to your business in more ways than one. Business automation refers to a system that learns through data. It is a simulation of human intelligence incorporated into software and thus can perform tasks that we normally rely on humans to do. Automation improves business workflow, meaning you can put your expertise into the areas that matter.
Put simply, automation removes the potential headcount for tasks that can be easily repeated via software.
Many aspects of automation are visible in your everyday life, you may just not be aware of their presence. E-commerce sites where automation is used such as live chat or phone bots – allow for queries to be handled in a more efficient manner due to machinery being quicker in real-time compared to humans. The use of automation is endless, and there is more than one way to incorporate it into your business.
"Research shows that 61% of workers say that the adoption of automation within the workplace has led to a boost in productivity." - SnapLogic
Let's look at how removing manual processes by using automation software can transform your workplace.
The Benefits
Removing manual processes and using automated software within the workplace is transforming the ways that companies are structuring their workflow infrastructure. Sophisticated software allows for reduced workloads as the software works around the clock, even when your employees have finished for the day. Working behind the scenes and ensuring that all tasks are managed and prioritised efficiently.
Elliott Peacock, Director of Software, has this to say:
"Removing manual processes from any business brings a huge host of benefits, notably the ability to deliver your products or services in a more efficient manner, in turn enabling you to do so more profitably."
Elliott went on to say...
"Furthermore with the removal of repetitive human intervention, often you should expect to see less errors, which should then provide an improved customer experience and less need for remedial actions from subsequent fallout."
Clear Focus on the 'Important' and 'Profitable'
Removing manual processes allows mundane day to day tasks, which are repetitive and tedious, to be freed up for employees. Removing these manual tasks not only benefits and betters employee morale by reducing unnecessary workload, but it also allows them to focus on the more profitable tasks. Research shows that 44% of firms using business automation reported seeing a reduction in their business costs across departments where automation is implemented. This was coupled with growth in revenue by many of these organisations.
Gets Better with Time
Using an automated system ensures that your software is ever adapting to you and your business needs; with time and data, the system is increasing its knowledge. The more the software learns and understands, the more efficient the software is at delivering tasks for you.
Understands and Delivers
Automation understands any intellectual task that an employee can do with the capability of even communicating back relating to specific tasks. For instance, the software can alert users of important dips and changes within the workplace that can often be overlooked. It does this by analysing and identifying changes in patterns and data, allowing errors to be avoided before they even become a concern.
Knowledge That is Here to Stay
When employees leave a place of employment, sadly their knowledge is taken away with them. With software, this knowledge that is ever-growing, remains within the company forever. This can benefit not only existing employees, but to new employees with the software's knowledge.
Netmatters In-house Automation Software: Sofia
At Netmatters, we pride ourselves on being up to date with the newest technology. Having an in-house business automation system, better known as Sofia to the team, benefits our live time management work environment in several different ways. Here are just a few examples of how she does this day to day:
Sofia creates and sends tasks for the team in order of importance. Allowing each employee to focus on one single task at a time, in order of priority. This ensures that no tasks are overlooked and deadlines are met effectively.
Sofia ensures that employees are never in a position where they don't know what is required next. When each employee's task list falls short, she continuously analyses this through data and ensures that new relevant tasks are fired. This avoids tasks being missed, duplicated, or pushed back and allows for maximum efficiency. This also allows employees to know exactly what is required from them day to day, hour by hour which ultimately ensures that we are working efficiently and allows for better planning. When you start your workday, there is no questioning what's been done and what's not been done.
Sofia alerts us of any warnings or problems that she has detected through data. These are presented as notifications which appear at the top of the system which cannot be missed as it requires manual closure. Often these errors, if solely relied on humans, can take much longer to emerge and be noticed if someone is not constantly looking at/for them.
Get Started Today
If you are ready to remove manual processes from your workplace, then get in touch with our team today. We would love to talk you through the benefits in further and detail the required process in installing this within your business.
Our monthly Business Automation Seminar with our bespoke software expert will help understand the problems you are facing, and give tailored advice on how automation can help resolve them.
Get in touch with our team via the contact form below, or by giving us a call at 01603 704020 today.