Jim Becomes the Netmatters Digital Director

Posted by Tessa Dempsey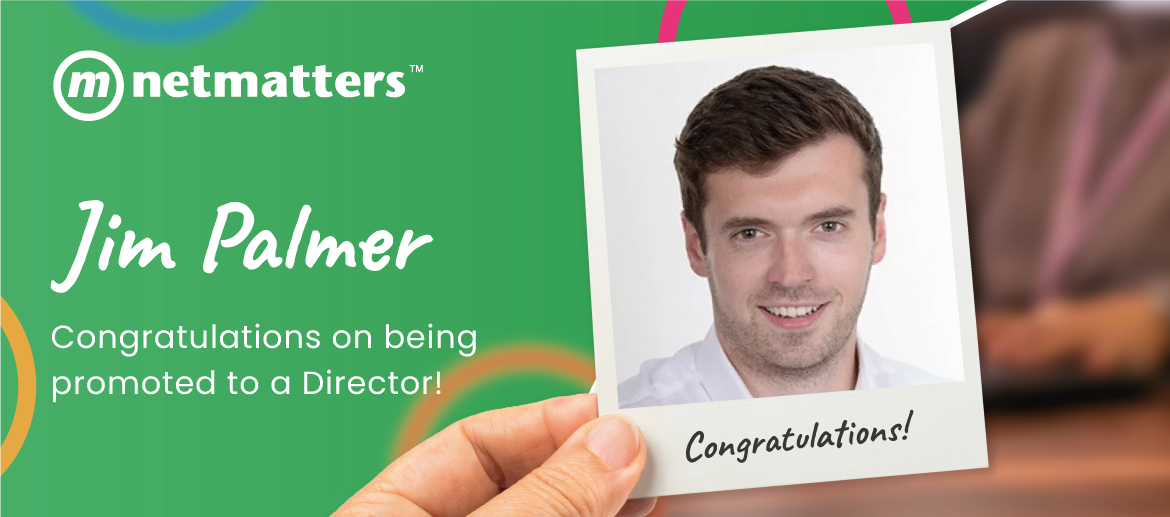 Netmatters continues to grow year on year: this means the management team is growing in line with our business requirements, as is the board of directors. The role of Digital Marketing Director is a newly created post that reflects the needs of the business moving forwards.
Jim joined Netmatters back in 2017, and since then he has seen his department grow to a 15-strong team of exceptional individuals. His always sunny attitude and enthusiasm toward his role have helped him exceed expectations with our customers and within the business.
"Jim has been leading the digital team for a few years now and has proved himself as a force to reckon with. He has developed a very effective team who are delivering exceptional results for all customers. His passion and dedication are second to none, so his appointment as a Director, I'm sure, is fully expected by all. Jim will now have further scope to shape the strategy of the business as we expand our product and geographical coverage. We are delighted that he has accepted the Directorship and expect big things." - James Gulliver, Managing Director
Netmatters has always promoted from within, and we know Jim will be an excellent addition to the team. The appointment will see Jim taking on more responsibility and grow into the role over the coming years. He has been a true advocate for Netmatters and a strong supporter of leading by example.
"I am thrilled to accept the role of Digital Marketing Director at Netmatters. I am passionate about driving us forward and delivering the best possible experience for our customers and team, so I am honoured that the current Board of Directors has confidence in me to join them in shaping the future of the business.

After joining as a Junior Business Development Consultant, James, Elliott and the wider company gave me the tools to grow and evolve as an employee, and the fact that I am accepting this role today is a testament to the professional development and opportunities that Netmatters can provide. It is in our TRUE values to recognise and celebrate hard work on all levels and to that end, I would like to take this moment to thank the Digital team for their efforts and dedication.

I am excited to see our digital and web offerings flourish over the coming years and to expand collaborative links with other departments, continuing to grow as the pioneering driving force that Netmatters is within the industry. We have a formidable team here and I look forward to the future as a director!" - Jim Palmer, Digital Marketing Director
We are continuously looking to grow the company with a strategy that will help empower all employees and lead them to have successful careers within Netmatters. Using innovation, technology, creativity, and vision, our team continues to improve in skills and numbers, resulting in the delivery of positive results for all our clients.
The services that we provide as an overall company cover various technology business needs and solutions such as Website Development, Software Development, Digital Marketing, IT Support, and Telecoms Services. If you are interested in any of these services, please do get in contact via the form below, or by ringing 01603 704020.