Set Your Sights on a Career in Web Development

Posted by Netmatters Ltd
2nd May 2019
Netmatters is an established web development and IT company offering a diverse range of products and services. At Netmatters, we learn by doing and believe in hands-on opportunities to build your skill set and move forward in your career. That's why we created the Scion Coalition Scheme.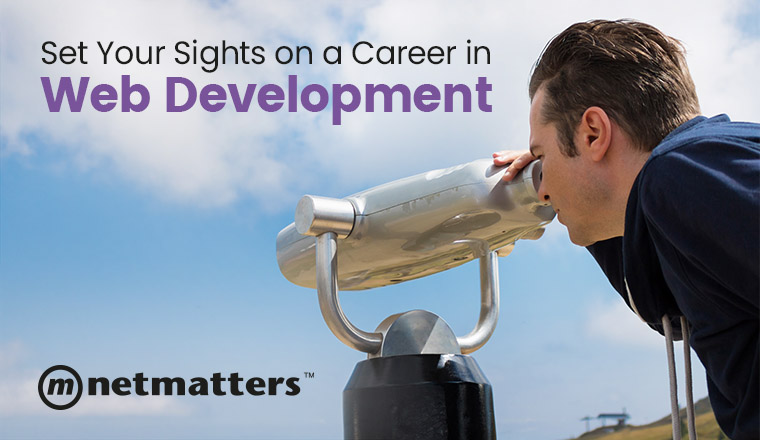 This is an intensive, hands-on course in a commercial software development department. Students balance their education with development tasks, gaining the skills and confidence it takes to succeed as a junior developer, but with the support and supervision of expert professionals.
Over the last 18 months we have seen great success with the SCS. Currently on average 3 out of 4 applicants have graduated into a permanent developer role after approximately six months of training. This would not be possible without the Department of Work and Pensions, as well as the incredible support from tech companies across the country. These companies provide sponsorship opportunities, subsidising training costs and giving candidates the chance to gain a permanent role as a certified developer upon graduation.
In addition, one of the best parts about this course is that it's completely free! Sound good?
Here's how it works:
Just like a full-time job, you will be with us for 8 hours a day, 5 days a week. You will also be asked to follow the same rules and standards of practice as the rest of the team.
The candidates will accrue holiday as with a normal employment.
Based on how you progress within the course, the scheme can last anywhere between 3 and 9 months.
A sponsoring company may offer to take the candidate at any point, and, if agreeable, help hone their skills in a specific area of interest.
We are looking for passionate, enthusiastic people who have a desire to become a web/software developer. Netmatters will provide an environment which is conducive to learning new technology with practical assignments to gain real experience along with access to self-learning portals and a large team of experienced software developers around you.
This is a 'no experience' necessary opportunity but an overall interest in web/software development would be beneficial.
As part of the scheme, you will be fortunate enough to be able to enjoy some of our standard benefits our own employees enjoy, such as training and development, an in-house gym, 25 days annual leave plus bank holidays and monthly notable employee awards.
So, if all of this sounds like something you would love to do – get in touch with a CV and covering letter to training@netmatters.com and we will arrange a chat!

For more information about the Scion Coalition Scheme click 'Find Out More' below.