How Organic and Paid Social Works in Synergy

Posted by Netmatters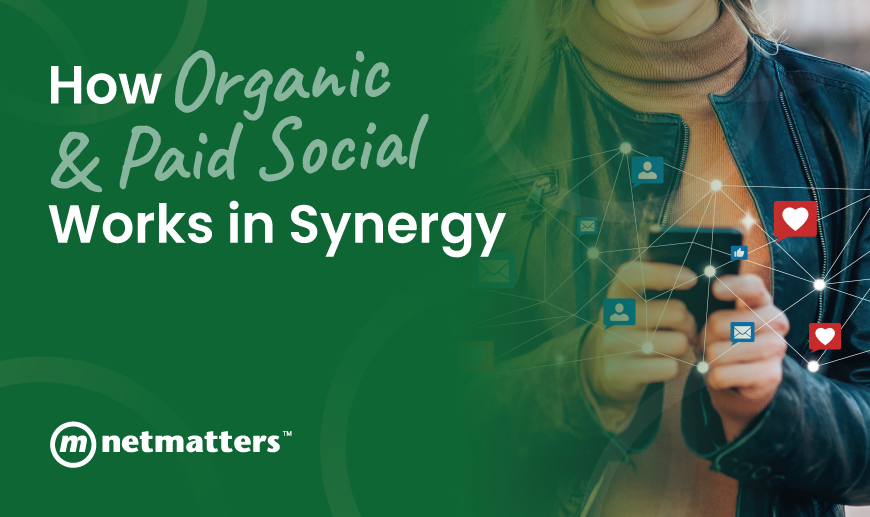 If you weren't aware already, the way people communicate and engage with brands is changing, meaning that the way businesses market themselves must change as well.

Nowhere is this more true than in the realm of social media, which as of 2022, has 53 million active users across the UK (https://cybercrew.uk/blog/soci...) who are all spending an average of 1hr 55 minutes a day on platforms such as Facebook, Twitter, Instagram, and Tik-Tok. Research suggests that the majority of these users are also using social media for brand discovery, with 55% stating that social media platforms are the starting point for discovering new brands.
The size and application of social media in this manner clearly makes it an exciting prospect for any brand looking to grow, placing much importance on a strong social media marketing strategy. However, this brings up the age-old question for social media marketers, agencies, and business owners across the world, 'Do I focus my content plan on organic social media, or paid social media?'
In this article, we will show you why there is no need to choose, and that a good social media content plan will incorporate both paid and organic media to continue expanding your follower base with high-quality prospects, whilst also forging stronger relationships with your existing followers.
Organic Social Media
Organic social media references any free content that is created by all users. This includes:
Posts
Stories (Facebook & Instagram)
Photos
Videos (Tik-Tok, Instagram Reels, YouTube)
This type of social media is going to be seen by the people who follow your business (and anyone they follow if they choose to share), or who are searching for the hashtags you have included in your post.
Organic social media, if used to its full potential, can create a channel to build a following of potential or existing customers who are truly interested in your brand and the products/services. If someone has actively indicated that they are open to hearing about you, this opportunity should not be missed!
Netmatters can support your business in building an organic content plan, and creating these advantageous customer relationships. Get in touch with us today.
Pros of Organic Social Media
Other than the fact that it does not cost a penny, organic social media allows you to engage with users that are truly interested in your brand, giving businesses an unprecedented level of closeness to their customers. This can help build loyal brand relationships that are proven to result in repeat purchases, and brand advocacy. Since 88% of social media users state that they trust brand reviews from other social media users, these relationships formed through organic social content are invaluable to a business looking to maintain and grow their customer base.
Cons of Organic Social Media
Whilst organic social media content is fantastic for forging profitable relationships with your customers, it cannot be the sole component of a social media growth strategy. This is because its inward-facing, only appearing to those who are already aware of your brand.
Therefore, it is not an effective tool for solely growing your follower base. This is where paid social media comes in…
Paid Social Media
Paid social media refers to the act of paying to show adverts or sponsored content to social media users, usually with a cost-per-click payment model. This includes, but is not limited to:
Facebook and Instagram display ads
Sponsored tweets on Twitter
Adverts between stories on Facebook and Instagram
Sponsored Facebook Messenger content
With paid social media, you can set a target demographic and interests for the user you want the ad to display for, and then usually set a budget, and a campaign length. The social media platform will then display your ad to users who meet the parameters you have set, and you are only charged when a user clicks on the ad.
Netmatters' expert team help SMEs design tailored paid social campaigns to drive traffic and generate leads.
Pros of Paid Social Media
As aforementioned, with so many people using social media for brand discovery, the large amount of users you are able to reach through paid social media, opposed to organic, gives you a great chance of attracting high quality leads for your products/services.
With most platforms employing a cost-per-click model, you won't have to worry about your budget being wasted, and can instead enjoy watching your social and website traffic grow exponentially. Most platforms such as Facebook and Instagram also provide in-depth tracking features, giving you precise information on how your campaigns are performing, and what sort of return on investment you are getting.
Cons of Paid Social Media
Whilst a key part of any good social media marketing plan, paid content will only reach new users, and will leave your current customer base without any content to engage with, causing you to miss out on profitable relationships with your customers.
SMEs will also be nervous about putting their money into paid advertising as the returns aren't guaranteed, but they still require regular investment to stay effective.
So, Should You Be Using Paid, or Organic, for Your Social Media Marketing Strategy?
As you have most likely figured out, you should be using both!
Whilst it is 6x more profitable to retain a customer, than acquire a new one, you will never be able to grow without new customers. But if you only focus on attracting new customers, you will not be building the necessary relationships with your followers to benefit from their loyalty, and advocacy for your business.
Using both paid and organic media allows you to keep a steady stream of new leads coming to your site and socials, whilst also allowing you to keep them engaged with your brand once they have arrived.
Netmatters can support you in creating a fully integrated social media marketing plan and can manage both the organic, and paid side of your social strategy.
Top Tips for Integrated Strategy
With platforms such as Facebook and Instagram allowing you to 'boost' your organic posts that are already published by setting a budget and running them as ads, you have the opportunity to turn your organic content into paid.
This allows you to optimize your paid social media strategy by boosting the organic posts that are performing the best. Pay attention to each post's key engagement metrics such as likes, comments, and shares to see which pieces of content are engaging your target audience. You can then boost these posts to give your paid strategy the best chance of generating click-throughs from your desired demographics.
Using Organic Media to Determine Your Paid Targeting Strategy
Speaking of demographics, platforms such as Facebook, Instagram, and Linkedin provide in-depth targeting options for their ads to allow you to reach your target demographic. But how are you supposed to know exactly who you should be reaching to achieve the best results from your paid content?
The answer is to use your organic media. You can conduct research on those following you, and those engaging with your organic posts, to get an idea of who your audience actually is. This can then be used to set the targeting for your social media ads, ensuring you are reaching the right users for your brand.
Running Consistent Campaigns to Give Users a Brand Experience
With paid social content being used to attract new users, and organic content engages existing users, these features can be used in tandem to create campaigns, and provide users with an overall brand experience to encourage conversions.
By creating this consistent content across paid and organic media, you are able to drip-feed your brand identity and values to users, helping to reinforce key messages to your customers that will help drive engagement, interactions, and hopefully, conversions.
Overall, we cannot view paid and organic social media as separate entities, and must instead view them as two critical components of a strong social media growth strategy that serve both new and existing customers, whilst helping to build the brand story and image that you want to share with your customers.
If you would like support with growing your social media through paid and organic means, Netmatters has a proven track record of managing clients' social media using detailed and relevant content plans to help grow your online presence, whilst maximizing the value from your existing customer base.