UP Building Products - Web Case Study

Posted by Netmatters
11th July 2023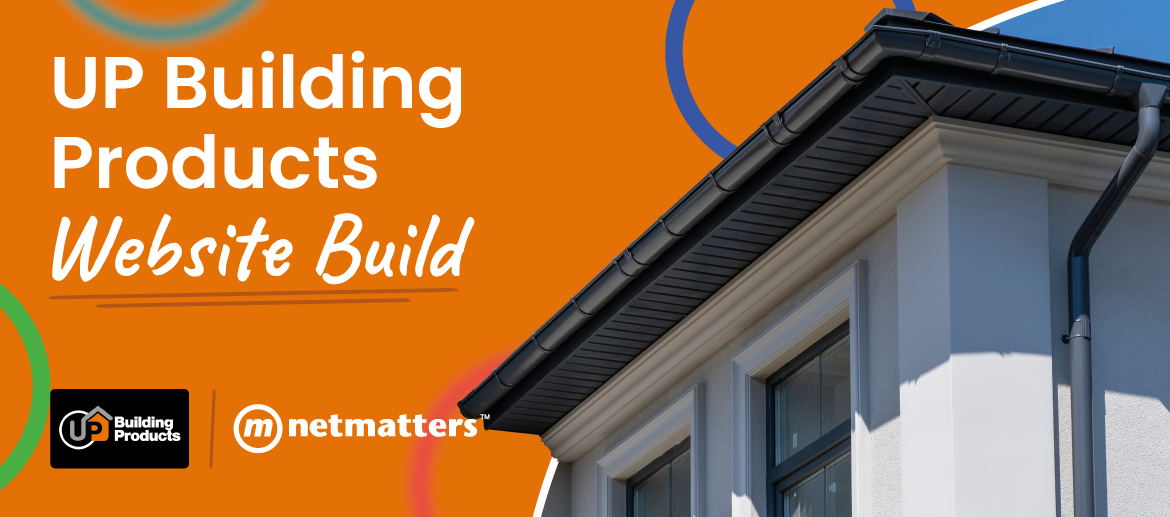 The Client
UP Building Products are a leading supplier of UPVC building materials across the UK. Stocking a large range of high-quality roofline, cladding, decking, and underground drainage from reputable manufacturers, the client has continued to expand over the past two years. They now have 6 total branches, stretching all the way from Bury St Edmunds, to Maidenhead, to Sutton Coldfield.
The client was looking for their website to be a central hub to raise brand awareness, sell their USPs, and then to direct interested parties to one of their six builder's merchants.
However, their previous website design was functional, but not optimised for a positive user experience. For example, the navigation menu was not interactive or intuitive, limiting the user's ability to move around the site and find what they were looking for.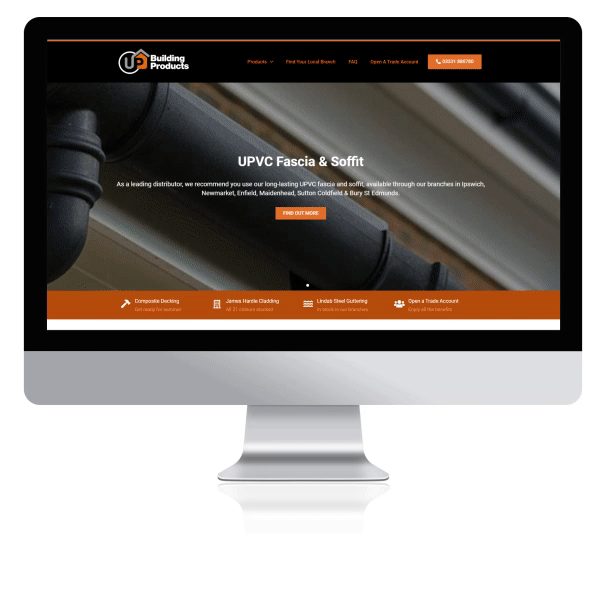 What Were the Client's Needs?
The site was not optimised to encourage enquiries, incentivise trade account sign-ups, or encourage users to learn about the client's products and services – acting as a significant barrier for conversion.
Having already worked with the client on their digital marketing, Netmatters led the charge on a new website design that would be better optimised to improve the flow between pages and reduce the friction points in the user experience. At the same time, we looked to overhaul the user experience to create a greater emphasis on the client's brand values whilst the user moved through the site.
The ultimate objective was to increase in-store traffic generated through the website, as well as encourage a greater number of trade account sign-ups. This would come from increased traffic to the re-designed pages and creating a streamlined on-site experience that engaged users.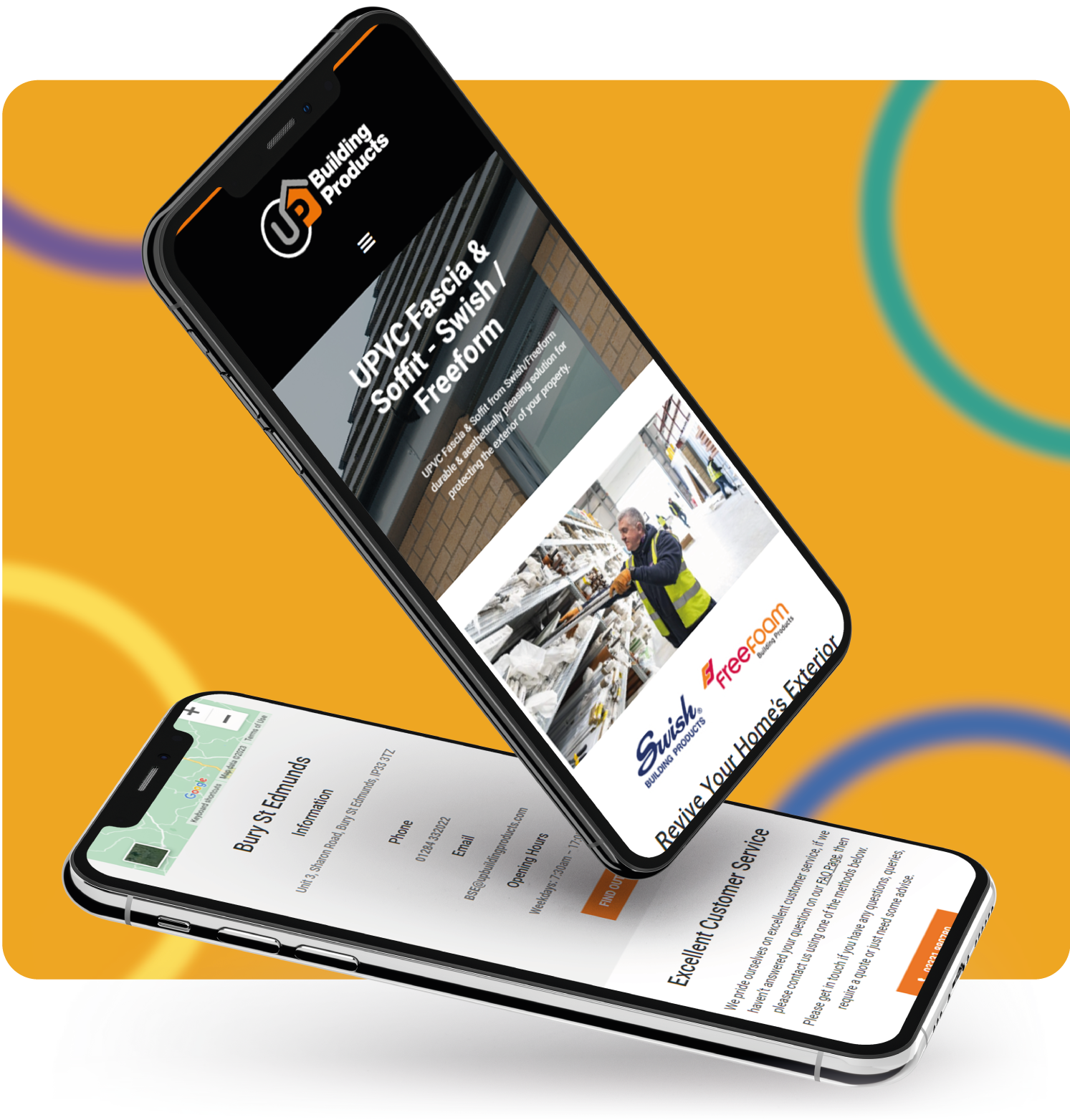 The team at Netmatters are a pleasure to work with, they are knowledgeable and experienced, and this really shows. They have made lots of great improvements to our website which has led to an increase in customer engagement and sales leads. I would highly recommend Netmatters to anyone. - Pete Deller, Operations Manager

What Did We Do?
Netmatters took a staged approach to re-designing the website, beginning with an overhaul of the homepage and product pages. Attention to detail was the focus, including improving the visibility of Call-to-Action buttons, and animating the webpage scroll for a modern, sleek experience.
Specifically, the Product Page overhaul focussed on maximising the accessibility of relevant product information for users. Users can now access related pages to find similar products, as well as video content for a more engaging way to discover product information and demos.
As well as this, existing page content such as product specifications, technical specification documents and colours were re-organised for a more coherent and friction-free page experience.
Locational SEO is a priority for the client, and as such, the next priority was to re-work the 'Find My Local Branch' page. This was split into two sections – local branches and contact details. This gave users the options to contact branches individually, as well as links to FAQs, call customer service, and submit a contact form directly, helping streamline the conversion process.
What Was the Outcome of This Work?
Following the works completed, over a 3-month period, UP Building Products' site saw a 60% increase in average traffic to location pages. The works completed to improve the prominence, functionality, and ability to navigate to location pages has enabled users to access desired conversion pages far more easily.
Works completed to overhaul the helpfulness and flow of product pages also led to a 20% increase in overall traffic. This is indicative of helpful and rich page content with a coherent and obvious site structure, making the pages more relevant to target users.
Both the increase in traffic to the Location and Product pages indicate a healthier, streamlined user journey, meaning that users are more easily able to evaluate the client's offering and understand how to convert.

Does Your Website Need a Refresh?
Whether you are keen on developing a new site to drive leads for your business, or are just simply unsure of your current site, Netmatters' experts across London, Cambridge, Norwich, and Great Yarmouth are always on hand for a free consultation to discuss your requirements/concerns.

How Can We Help You?
Contact us today to speak to one of the team about how we can help your business. For any further questions please refer to our details below.
As Netmatters marks its 15-year milestone, we reflect on the incredible journey of the past fifteen...
Read More

Posted by Netmatters
29th November 2023
Salary Range £26,000 - £34,000 (DOE) + Bonus Hours 40 hours per week, Mon - Fri Location Wymondham,...
Read More

Posted by Rebecca Moore
27th November 2023
Today we celebrate the remarkable achievements of Rebecca Brine as she takes centre stage, championi...
Read More

Posted by Netmatters
24th November 2023