Spicerhaart – Upskilling Staff Through the Skills Bootcamp

Posted by Netmatters
9th August 2023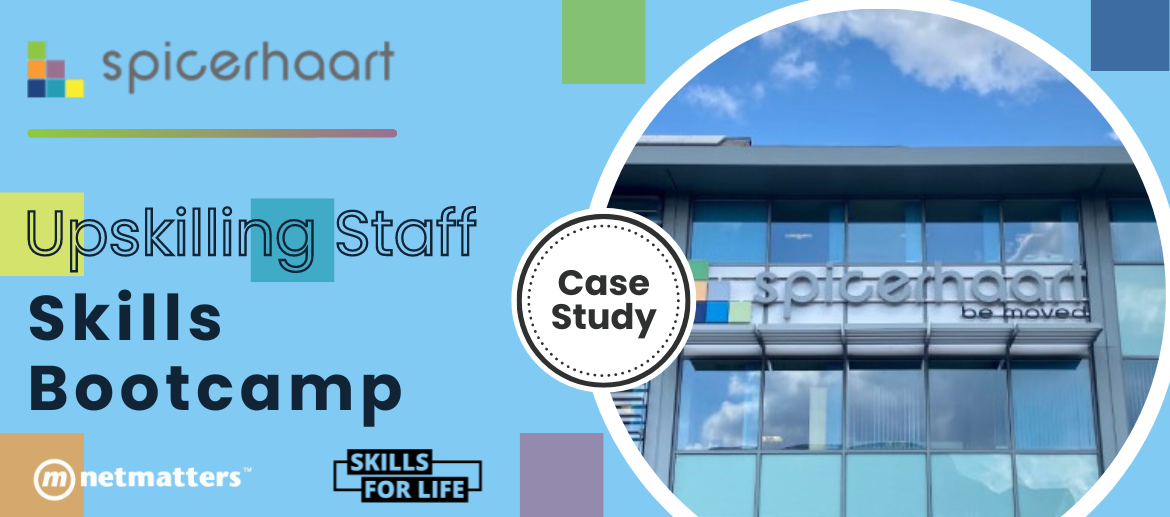 The Client
Spicerhaart is an independent residential sales and lettings organisation, recognised as one of the leading estate agency groups in the UK. The organisation owns a range of established agencies, including Haart, Chewton Rose, Felicity J Lord, Haybrook, Howards, Butters John Bee, and Darlows.
The establishment provides a plethora of legal and conveyancing services to equip individuals with the correct resources for property sales and lettings. With over 2,000 employees across the UK, the Spicerhaart end-to-end services and award-winning marketing techniques provides peace of mind to those looking to implement an efficient and communicative estate process.
What Was the Client Looking For?
Spicerhaart were looking to improve its internal technical expertise, specifically in terms of coding and development, but was not looking for a complicated, costly recruitment process to hire a new developer.
Instead, they were looking to upskill an existing team member that had a strong passion for coding and had already impressed with their work ethic in other roles within the organisation.
As a result, they enrolled this employee on Netmatters' Skills Bootcamp – an 8-week training course for web and software development.
How Did Netmatters Help?
To aid in the development of transitioning to a Junior Developer at Spicerhaart, we generated a bespoke training track to ensure their progression was tailored around the requirements of their new role, and that their new skills would have clear benefit for the client. The course was delivered completely remotely and involved the development of a range of coding skills, learnt through a mix of interactive lessons, and bespoke build projects. This gave the team member a strong foundational understanding of both the theoretical, and practical side of coding.
Each stage was meticulously monitored by our course leaders and development experts, involving consistent communication with both the client, and their staff member, ensuring that the right level of progress was being made, and that the bespoke plan was fit for purpose.
We also worked alongside the Spicerhaart to ensure that the training didn't take away from the student's current job role – with a weekly balance being struck at four days with the client, and one with Netmatters. This ensured that both Spicerhaart, and the student, were able to avoid any disruption throughout the process of the course.
Our goal within in the IT department at Spicerhaart is provide our team with the knowledge and skills for their current roles, alongside this is to support their growth and a career pathway within the department. Faizel at Netmatters approached us with opportunities where he and his team of experts could help. Faizel illustrated the detail around what the boot camp would cover, in addition, gave us the ability to add anything else specific to our business area that could be included. We had clear communication throughout the course period. Pleased to say on completion of the course our IT ServiceDesk analyst had the tools to support them to progress on to a Junior Developer role. - Chantal Hutchinson (Group IT Services)
What Was the Result?
Following the completion of the 8-week course, the staff member has now returned to Spicerhaart with an immediate promotion to Junior Developer and is now thriving in their new role, putting the skills they learned on the Skills Bootcamp into practice!
This also means that the client has been able to save on long, costly recruitment process for a developer, and has instead been able to invest in their team member who they know has the right passion and drive for the position. As the course was completely customised to the skills the client required, they are now set up with the perfect resource to help keep their business moving.
My experience with Netmatters and their boot camp is nothing short of extremely positive. The content delivery was a great mix of theory and interactive exercises, which for someone like me (and the way I learn) is perfect. It didn't just delve straight into the complex theory and assume it's the current level I was working at, it instead starts with a few refreshers on the basics (i.e. SQL, C#) and builds up steadily into more advanced techniques. The communication between Faizel and myself was kept up each week, with regular check-ins to see how I'm getting on and to see if I'd benefit from having a meeting with other advisors. This was especially helpful as I wasn't completely confident with one of my "check your understanding" projects, so Faizel organised a meeting between myself and a C# developer to put my mind at ease. I can't phrase it better than "Faizel went out of his way to ensure I succeeded". I will always recommend this course to other budding up & coming developers! - Marc Englefield, Student
How Can We Help You?
Whether you are keen on either upskilling yourself or a member of staff, start your enrollment process for Netmatters' Skills Bootcamp today and study under our expert tutors to develop skills. If you have any further questions use the contact form below, or contact us directly.
As Netmatters marks its 15-year milestone, we reflect on the incredible journey of the past fifteen...
Read More

Posted by Netmatters
29th November 2023
Salary Range £26,000 - £34,000 (DOE) + Bonus Hours 40 hours per week, Mon - Fri Location Wymondham,...
Read More

Posted by Rebecca Moore
27th November 2023
Today we celebrate the remarkable achievements of Rebecca Brine as she takes centre stage, championi...
Read More

Posted by Netmatters
24th November 2023