Our Digital Marketing Partnership With The Girls Day School Trust

Posted by Netmatters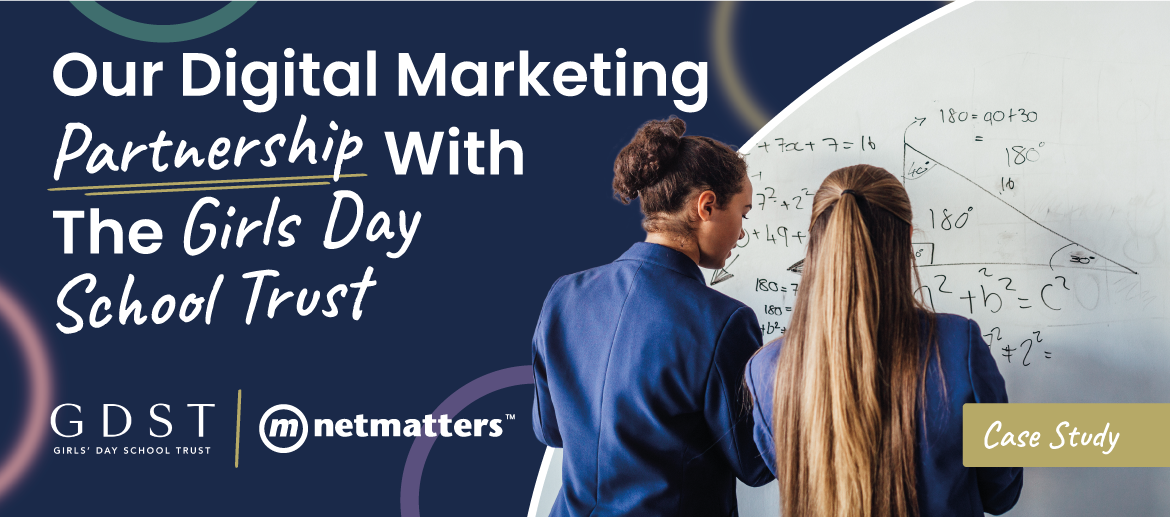 The Client
The Girls' Day School Trust (GDST) is the UK's leading family of 25 independent girls' schools. Founded in 1872 by four pioneering women who believed that girls should be entitled to the same academic education as boys, the client strives to deliver an adaptable, innovative education experience that is aligned to how each individual learns best. Schools within the trust have been recognized for their excellence in both teaching and pastoral care, winning a plethora of awards including The Sunday Times' Independent Secondary School of the Year in East Anglia, which has recently been won by Norwich High School for Girls.
At Netmatters, we provide three of the GDST schools with digital marketing support: Norwich High School for Girls, Bromley High School, and Northampton High School. We have also just began working with Royal High School Bath, and we are looking forward to developing our work alongside each school.
The Problem
Each school approached us with different requirements and objectives:
After launching a brand-new website in May 2022, Norwich High School for Girls were in need of digital marketing support in order to optimise the new site for search engines. The goal of the work was to ensure a strong flow of organic traffic moving onto the site so that the school would always be top-of-mind when users are researching independent schools in Norfolk.
For Bromley High School, the priority was to work quickly to generate a good attendance for open days and year-round events, as well as increase applications for Year 7 and Reception places.
For Northampton High School, the aim was to apply Search Engine Optimisation (SEO) techniques to increase website traffic, and ultimately boost online applications for their Nursery. However, improving the overall usability and health of their website has also been a key, ongoing objective.
The Solution
Firstly, we made use of a number of different SEO techniques to help improve Norwich High School for Girls overall positional rankings on Google, with a particular focus on targeting non-branded keywords that display intent from users, such as 'all-girls school Norwich' and 'independent school Norfolk'. This was geared towards increasing their visibility and brand awareness amongst their key target demographic – parents researching independent schools in Norfolk.
On-page optimisation was supplemented with a variety of additional SEO tasks, including link building and technical site audits, whilst data tracking errors were identified and rectified to ensure that we could accurately report on the client's website activity.
For Bromley High School, in order to work quickly to meet attendance and application objectives, we created a Google Ads Pay-Per-Click (PPC) account with two campaigns, one to promote the September Open Day and one to promote Reception Applications. Performance data was constantly monitored throughout the lifetime of the campaigns, with keyword, content, and budgetary adjustments being made to maximise the efficiency of the campaign. After the success of these initial campaigns, we expanded the advertising scope to include further Open Days in October and Year 7 Applications.
For Northampton High School, we conducted a full review of call-to-actions across the site to ensure that they were in the best position to convert potential Nursery applicants, and that users were being correctly guided through the site, to the key contact pages. To compliment this, we conducted a full review of the internal linking structure throughout the site, optimising this to ensure that it pointed to the key contact pages, whilst also offering the clearest and most simple method for users to reach their intended pages on the site. A poor user experience is the primary factor for users leaving a website, so making navigation as intuitive as possible was critical to improving online conversion rates.
As with Norwich High, we also conducted multiple site health audits to identify negative ranking factors for Google, and then rectified these issues (including missing meta data and broken links) to help improve search engine positionings and the overall user experience.

The Results
Through the implementation of SEO techniques, we have increased the average ranking position for Norwich High School for Girls, which has resulted in 58% of all website traffic coming from organic search channels. This success has resulted in Netmatters also now assisting with social media campaigns to promote open days, including the design of imagery and ad copy, along with campaign setup and monitoring.
Since Bromley High School began their PPC partnership with Netmatters, 23% of all conversions on site have come through paid search channels. Our marketing point of contact has also fed back, stating that Reception applications have increased by 14% this year in comparison with 2021.
By focussing on the user experience on Northampton High School's website, we have seen total website traffic increase 10% year-on-year from 2021 to 2022. This is a result of improved user engagement metrics, and a boost to the website's health score, something which strongly influences search engine positionings.
Thus, by utilising a variety of organic and paid digital marketing techniques, we have been able to significantly contribute to each of the school's objectives, applying our agile work model to facilitate both high-priority, immediate requirements, and then longer-term goals that have required ongoing and regular support.
Netmatters are doing a fantastic job in pro-actively managing our website – spotting opportunities and helping ensure our online visibility continues to improve. They are always helpful, thorough and knowledgeable. Thank you. - Norwich High School For Girls
It's been a delight working with Netmatters on our ppc campaigns. Their account management and responsiveness has been exceptional. The results speak for themselves, we've seen a 14% increase in applications for Reception in one year which we're extremely happy with. Thank you so much to the team! - Bromley High School
We have been working with Netmatters for the best part of one year, and we are delighted with our early results. The team keep us regularly updated with all of the work undertaken and it is always fantastic to see how much progress is being made. We are really happy with our relationship, and look forward to continuing our partnership into 2023 and beyond! - Northampton High School
How Can We Help You?
If you are looking for a digital marketing strategy to help grow your online presence. Contact our digital marketing experts by calling 01603 515007 or fill out the form below to book a consultation.
As Netmatters marks its 15-year milestone, we reflect on the incredible journey of the past fifteen...
Read More

Posted by Netmatters
29th November 2023
Salary Range £26,000 - £34,000 (DOE) + Bonus Hours 40 hours per week, Mon - Fri Location Wymondham,...
Read More

Posted by Rebecca Moore
27th November 2023
Today we celebrate the remarkable achievements of Rebecca Brine as she takes centre stage, championi...
Read More

Posted by Netmatters
24th November 2023