Future Proofing Your Business Communications - Aqualona Case Study

Posted by Netmatters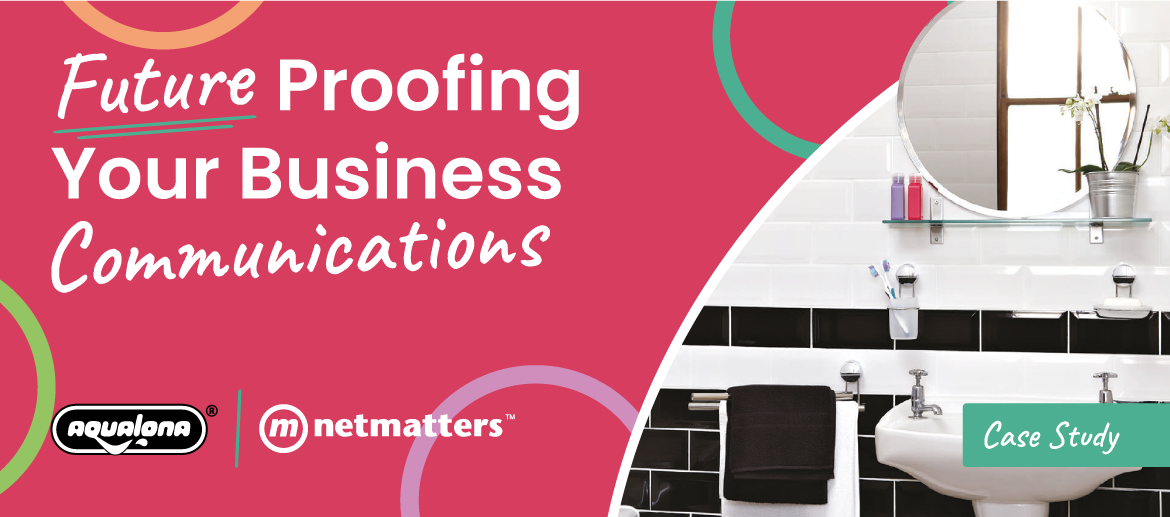 The Client
As the market leaders in manufacturing bathroom accessories, Aqualona have been firmly established for over 45 years. With multiple product ranges, including hundreds of individual products, Aqualona has continued to grow in their consumer offerings.
Forming a strong US partnership formed back in 2008, the client has grown exponentially, broadening their product range and capabilities in the process. As the client has continued to grow throughout the years, so has their demand for strong effective communication across their two primary sites: New York and London, with a real need for high-performance connectivity to handle the increase in operations.
The Problem
Aqualona initially approached us with an outdated phone system that was not up to modern standards, along with poor broadband connectivity across their main sites which was slowing both operations, and internal communications. With the PSTN/ISDN switch-off deadline fast approaching, it was clear that their existing communications system was unsustainable.
Netmatters were brought in to provide an efficient, scalable telecommunications solution that could grow with the client, as well as future-proof the client against the impending switch off of their existing telecoms system.

The Solution
The first stage of the project saw our Telecoms team build a completely new phone system as per the customer's requirements. A 3CX VOIP phone system was implemented across both of their sites through a testing environment, allowing members of their team to trial the solution and confirm that it met the necessary requirements. By not immediately putting this into a live environment, the client could provide feedback on the solution and request any alterations before we proceeded with their bespoke project.
We also implemented new broadband lines in order to improve the client's connectivity across their locations. The client was migrated from a traditional ADSL broadband line to the far more modern SOGEA broadband connection, offering greater overall speeds and performance across their internal network.
Once both sites had their new 3CX phone systems and broadband set up, the numbers were ported from their old provider to us. This allowed for a seamless transfer across to the new system, with the new phones immediately ringing at the same time the old phones stopped. This ensured that there was minimal disruption to the client's business operations during the implementation of the project.
The Result
Firstly, by switching the client to a new telecoms system, they have future-proofed their communications against the impending PSTN switch-off in 2025, providing a clear competitive edge over their competition. This is compounded by the scalability of the bespoke solution, with the client able to add an unlimited number of extensions to their system. Thus, as they continue to grow and take on new staff, their communications network will scale with them.
Furthermore, the implementation of a modern 3CX system now allows team members to collaborate efficiently and effectively, with an easy-to-use web-based interface that makes both telephone and video meetings far easier to set up and conduct. This is supplemented by the improved broadband connectivity to ensure all online meetings encounter minimal interruptions, and team members can remain productive.
Also, by switching to a high-performance VOIP system, the client has eliminated the cost associated with making business calls. Over the long term, this will result in a significant return on investment.
Finally, by connecting new broadband lines, we have ensured that in the event of one of the lines going down at their head office, the network will automatically failover to the second line, significantly minimizing any business disruption.
Netmatters have always gone above and beyond the call of duty for Aqualona. Overall, I have worked with several IT companies and none of them come close to Netmatters. Not only do they resolve the issues that are requested they are also working in the background to make sure we have as little problems as possible. The first thing I said to Netmatters when I spoke to them was that I don't want to have to ever worry about our computers, phones, or broadband again and I can say with confidence that since we have had them onboard, they have honoured that request - Zachary Brin, Business & Sales Executive
How Can We Help You?
If you are looking to future-proof your communications with a high-performance, scalable solution contact our experts in Cambridge, Wymondham, and Great Yarmouth to book a free consultation. Use the contact form below, or call us on 01603 515007.
As Netmatters marks its 15-year milestone, we reflect on the incredible journey of the past fifteen...
Read More

Posted by Netmatters
29th November 2023
Salary Range £26,000 - £34,000 (DOE) + Bonus Hours 40 hours per week, Mon - Fri Location Wymondham,...
Read More

Posted by Rebecca Moore
27th November 2023
Today we celebrate the remarkable achievements of Rebecca Brine as she takes centre stage, championi...
Read More

Posted by Netmatters
24th November 2023