A Revolutionised IT Infrastructure: Case Study

Posted by Netmatters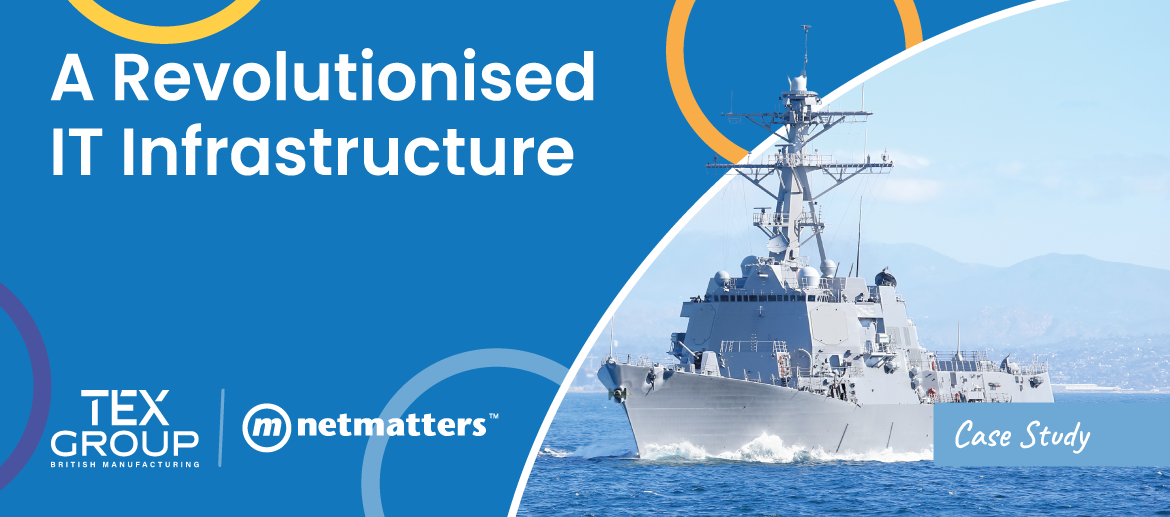 Netmatters has been building a strong reputation across Norfolk and Cambridge as the leading full-service specialists for IT Support. Tightening relationships with growing businesses in the local area, we've seen many of our clients bloom from strength to strength across a variety of sectors. Providing professional solutions by our award-winning team for businesses within all industries, we take your needs and requirements into account from the very beginning. Partnering with Netmatters back in 2020, our 3-step process to assess, implement and support Tex Group's IT Systems has seen fantastic results.
Our Client - Tex Group
The British Steel Piling Company was founded in 1905. Expansion and diversification began in 1985 with the acquisition of Tex Abrasives and formation of Tex Holdings. Today, Tex Group incorporates six companies and operates nine manufacturing facilities across six UK sites. Their various B2B products and services include hydraulic piling hammers and ground improvement equipment, marine and industrial generators, hybrid energy and smart microgrid solutions, air traffic control rooms and specialist glazing, honeycomb panels, plastic injection mouldings, road maintenance machines, and subcontracted electro-mechanical systems.
Projects of interest include plastics for Triumph Motorcycles, lightweight panels for the leisure vehicle sector, generators for data centres and hospitals, piling hammers for the London Eye and Palm Islands, Manchester Airport air traffic control room and the Flying Control Rooms (FLYCO) of the Royal Navy Queen Elizabeth-class aircraft carriers.
The Need
With no centralised IT management, the business needed to outsource and consolidate their IT systems. Revolutionising a new infrastructure, Tex Group required a tender for a full MSP that covered all aspects of the group's network.
The previous IT systems across all nine subsidiaries of the group were not directly connected, making it difficult to manage and control.
Netmatters was required to integrate and centralise their entire IT infrastructure all in one place, ensuring maintenance, management and control remained all under one roof. Supporting hundreds of users working within the Tex Group, our team became the sole support for the network at large.
Future-Proofing Our Clients IT Infrastructure
Becoming Cyber Essentials Plus certified was a key cornerstone of the project. Strong communication between the client and our team enabled this certification to cross the line, carrying out a major infrastructure shift in time for CE+ renewal. As a result of a fully controlled and professionally set-up MSP, the group is now able to work and operate efficiently, with peace of mind on the reliance of Netmatters. On top of becoming CE+ certified, this also means work can be carried out with reliability and safety undoubted. The nine subsidiaries are able to cross-communicate effectively and have seen great results since. The new IT infrastructure marks the start of a new era for the Tex Group as they embrace a culture of continuous development, hybrid working, and shared resources. Our fast and cost-effective IT support services are designed to keep your business growing.
Why Netmatters
Andrew France, Group Head of IT at Tex Group, has provided excellent feedback to our team, with particular reference to Senior IT Engineer Jordan Newton who leads the IT project:
"Netmatters have been instrumental in helping us to consolidate the IT infrastructure within the Group and have fit in really well as our core support provider."
Andrew went on to say:
"I would recommend Jordan and his team to any organisation looking for a true partner to help take their IT forward and get embedded with their own team."
Our technicians get to know the in-house support personnel and what they need, and they think of themselves as part of the team – so it is great to hear that we are thought of in the same way by IT professionals like Andrew.
If you're looking to introduce a new evolution for your IT infrastructure or looking to find what options best suit your organisation, get in touch via our contact form below to find out more on how we can help you.
As Netmatters marks its 15-year milestone, we reflect on the incredible journey of the past fifteen...
Read More

Posted by Netmatters
29th November 2023
Salary Range £26,000 - £34,000 (DOE) + Bonus Hours 40 hours per week, Mon - Fri Location Wymondham,...
Read More

Posted by Rebecca Moore
27th November 2023
Today we celebrate the remarkable achievements of Rebecca Brine as she takes centre stage, championi...
Read More

Posted by Netmatters
24th November 2023