Why Shopify Is The Right Ecommerce Platform for You

Posted by Netmatters
20th July 2021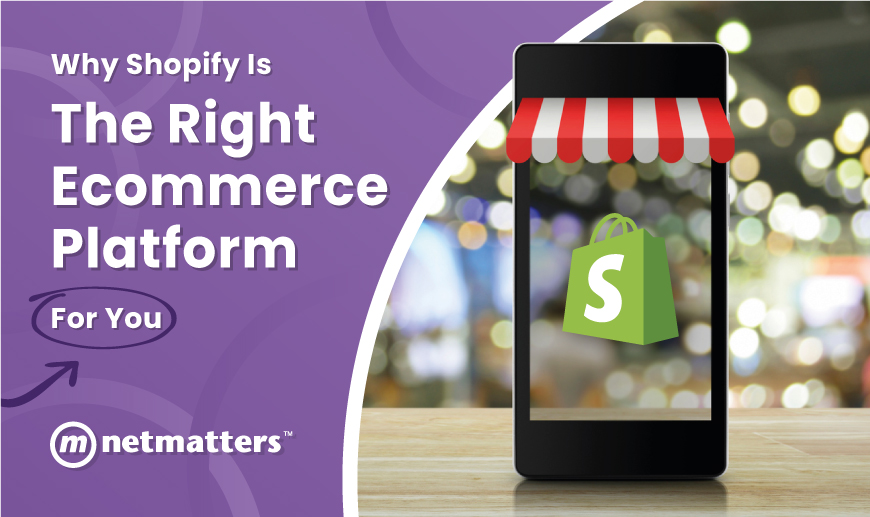 Shopify is an all-in-one eCommerce platform to start, run and grow a business. It currently powers over 1,700,000 businesses in more than 175 countries. Businesses of all sizes use Shopify, whether they are selling online, in retail stores, or on the go. Since its inception a decade ago, the businesses using Shopify have made over 200 billion dollars in sales, proving that Shopify is an incredibly successful eCommerce platform!
With its simple navigation and easy-to-use platform, Shopify offers an excellent opportunity to take your retail business online. By using one of a wide range of pre-defined themes and customisations you can make your website reflect your brand and look good.
"We believe the future of commerce has more voices, not fewer, so we're reducing the barriers to business ownership to make commerce better for everyone."
- Shopify
We look at some of the benefits of using Shopify for your new eCommerce website:
Your inventory is all in one place
Shopify's inventory is always synced across all sales channels. When putting your products onto the site, you can allocate a SKU for each product and manage your entire inventory through Shopify whether on desktop or mobile. You can track stock counts and automatically stop selling products when inventory runs out.
SKU (Stock Keeping Unit) is used to identify and track inventory, or stock. A SKU is a unique code, usually seen on a barcode for example, that identify characteristics about each product, such as manufacturer, brand, style, colour, and size.
You can also easily organise your products by category, type, season, and other variables. You can create collections for these different categories which can then be visible on the shop site. Products can also have multiple variations, such as size, colours, materials, and more, with each variation of a product can have its own price, weight, inventory, and SKU to make tracking inventory easy – both on and offline.
Easy Shipping
Shopify makes the process of calculating taxes and worldwide shipping costs as automatic and simple as possible. You are not limited to fixed rates. You can set up shipping rates based on these three tiers: pricing, weight, and location. Based on your location, Shopify will automatically handle major country tax rates.
Get Paid Quickly and Securely
There doesn't need to be anything to hold you back from accepting payments. From bitcoin & PayPal to iDEAL & Stripe, Shopify supports over 100+ external payment gateways as well as a range of different credit cards. You can choose to accept Visa, Mastercard, Discover, and American Express with only a low credit card rate and no hidden fees.
Do Business On-The-Go
To make everything even easier for you, Shopify also has an app that you can use as part of managing your online store. You have complete access to orders, fulfillment, analytics, and more all from your Android or iOS device. Order management is made simple by being able to fulfill orders even when you are away. You will have access to all of your products, inventory, orders, and customers as they are automatically synchronised between the app and the online store. Because the storefront is synced across all devices linked to your business, you can also add products & product photos and change prices, or manage inventory on the go.
If you are considering an eCommerce website for your business, then Shopify is an excellent option for you to consider.
When building a new website, it is important that you plan the project carefully to ensure you meet all of your objectives. Whilst Shopify is very user-friendly you may want to consider bringing a developer on board to help you get the delivery right the first time. Here at Netmatters, we have many years experience of delivering high-quality websites across a number of industry sectors. We have worked with a number of clients to deliver beautiful Shopify-based websites to meet their eCommerce needs. We can help you build and get the most out of your site, freeing up your time to focus on running your business. Contact us to find out more.