Telemarketing Sales Executive

Posted by Bethany Shakespeare
26th August 2020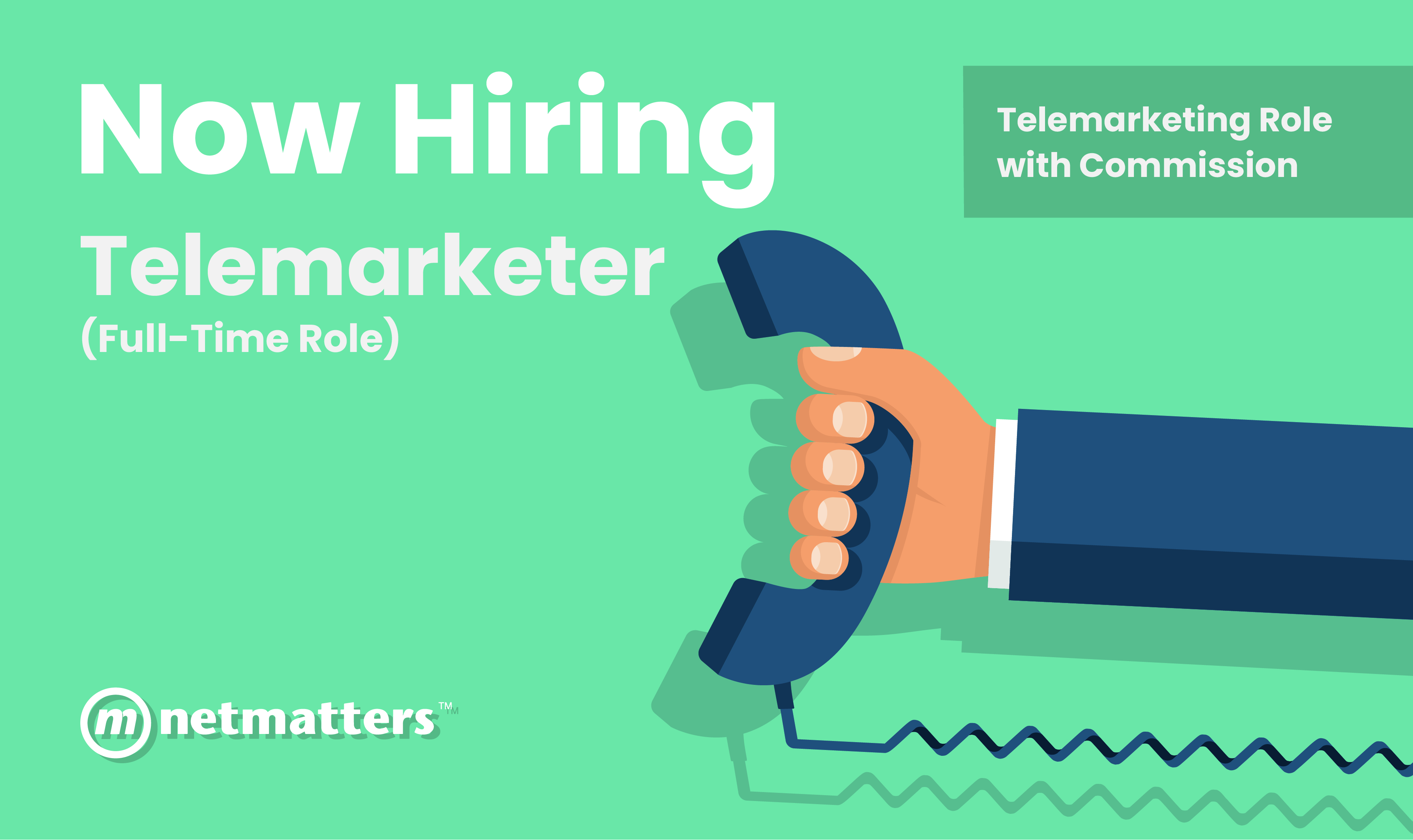 SALARY: Negotiable (based on experience) + Commission + Benefits

Are you a confident and adaptable telemarketer?
Do you thrive off meeting targets and generating high-quality leads for your team?
Are you passionate about technologies, hard work and delivering results?
If you think the answer is YES, we want to speak to you!
Netmatters is an established web development and IT company offering a diverse range of products and services.
This is your chance to join the team, and to work with creative, hard-working individuals in a fast-paced, energising environment.
We are seeking an experienced and enthusiastic, full time, Telemarketer, with a proven success rate in the development of quality leads.
Working closely with our Business Development team, your role will be to create and maintain a database of potential clients and to make initial contact to introduce our Company and services, with a view to obtaining leads for our IT and Digital Marketing Services.
This is a new role for the Company and your chance to make a significant contribution to the business. The successful candidate will have the following:
1 years experience in telesales/ appointment making
Drive and tenacity
A good telephone manner, polite, well-spoken and with a professional outlook
The ability to report and record time accurately
Self-motivation
The vacancy will suit an honest, dynamic and professional candidate, with the ability to work under their own initiative and to take pride in the services and people they represent. They should understand the importance of quality and commitment and show a willingness to continue to improve their existing knowledge and skills.
The position will be predominantly office based, although may have the potential of also working from home, with a negotiable salary and flexible hours to accommodate family and school times / terms.
Please email your CV and covering letter to givemeajob@netmatters.com
* - These benefits become available to you once you have served 3 months of continuous employment.
Young Person Looking for Work?
Nearly 40% of our team are young people - we have a proven track record of hiring, working with and giving great opportunities to young people. Our growing, vibrant team is always on the lookout for fresh new talent. In the past we've taken on apprentices who have gone on to stay here full time – we've offered young people the chance to spend time in each of our departments to get a feel for what they may want to do.
If you are interested in becoming a part of the team, please email your CV and covering letter by clicking HERE.