Take Your Business Online With A Pay Monthly Ecommerce Website

Posted by James Gulliver
30th March 2020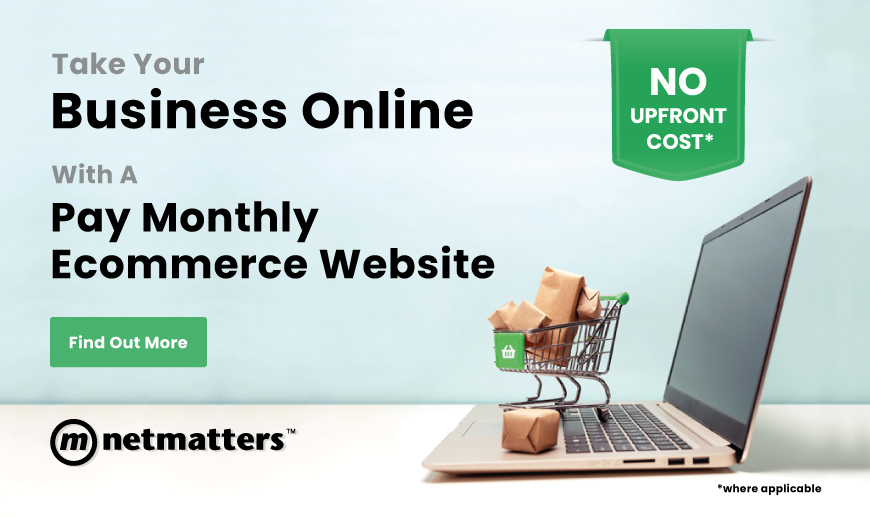 Are you interested in enquiring about an ecommerce website, we encourage you to get in touch with us.
If you are still looking to find out more, have a read of our latest article.
Take Your Business Online With A Pay Monthly Ecommerce Website
Times are hard at the moment, with potentially months of uncertainty still stretching out in front of us.

Whilst some businesses have been able to adapt their operations to minimize the level of disruption, others are struggling to stay afloat due to lack of resources, their industry or where they sell their products, meaning that in some instances, doors to businesses are being closed.
We are lucky that we have been able to stay open, continuing to operate with some normality and we wanted to be able to use that resource to help other businesses who are struggling to do the same. Primarily, we are seeing businesses shut up shop over the last few weeks because they lack an online presence or the website they do have has limited functionality., This has left many businesses thinking that they have no choice but to close their doors, because they have no other way to operate.
Over the years, we've worked with countless businesses to deliver a solution that moves their products and services online, meaning some, if not all, of their business can continue to operate – even without having a bricks and mortar premises.
In these times, it's crucial to do what you can to keep things as normal as possible, putting your business in a position of strength for when the madness is over and we want to be the ones to help you do it.
How an online presence can keep your business thriving:
Despite so much moving online these days, some businesses are still resistant to do the same for their business but, with the nation now working remotely and spending time browsing the internet or shopping online, can your business risk not being in this arena?
We understand that for some small local businesses, part of the charm is to stay small and only sell locally, however, in this time of crisis, that will mean your entire business halts. But it doesn't need to.
Say you are a local chocolatier that has up until recently, always sold your bars and treats in local cafés or garden centers. Recent events have forced them to close their doors and now your customers can't access your chocolate. But that doesn't need to be the case – a simple ecommerce solution could rectify this issue, allowing you to distribute your chocolate to loyal and new customers across the region, keeping you going until your chosen retail space becomes available again.
Not only will you be able to continue making sales on your products, but it allows you to maintain service delivery to your customers.
For example, an integrated booking system will allow customers to make appointments and request information, allowing you to get back to them at a later date. This keeps you connected whilst maintaining the usual high standard of customer service, something you may not be able to monitor through just a phone system, especially if you are experiencing an unusual volume of calls.
This ties in nicely with the notion that your website is 'always on' As previously mentioned, your audience are going to be at home a lot, meaning they will be browsing the web at different times of the day.
The beauty of an online presence is that it remains open at all times, allowing customers to take action and access it whenever they can, without being restricted to opening hours. The key point to remember is that the more accessible to customers you are, the more likely they are to choose to use your business ahead of your competitors. If you aren't available to assist them, you are only going to lose out.
What solutions are available?
We believe now is the time that all businesses should be online and we have tailored solutions available to ensure that your business has a site that works with you to deliver the most to your customers during this difficult time.
Pay monthly websites: We can appreciate the resistance to a site based on costs, which is why we want to mention our pay monthly websites. These sites allow you to have an expertly designed, online presence, but by paying monthly, it makes the costs much more manageable. This means whilst it gets off the ground, you aren't breaking the bank. These sites come with 5, SEO friendly web pages, an SSL certificate and efficient web hosting. Perfect for the small business looking to go online including those that are looking to sell products as an e-commerce retailer.
Ecommerce platform: As we mention, now is the time to sell online and reach those customers who can no longer visit your store. We have worked with many businesses across a range of industries to develop an integrated ecommerce site that allows customers to transact with you through the internet. We take the requirements and build a platform that deals with orders and payments in the most efficient way, meaning a smooth transition from retail to online environment for your organization.
Bespoke website builds: Our team of expert web designers thrive off creating a unique experience for your customers and can build you a website from the ground up. Working with you from a design and functionality perspective, they can create an online space that keeps you ahead of your competitors and delivering the most to your customer in their time of need. This style of website, also comes with a structured payment option to help you effectively manage your resources.
Adding a personal touch: You may think that if you already have a site, we won't be able to help you but we know there's always some way to improve. We can work with you and your existing site to add more functionality, different content, change parts of the design or improve its structure to ensure your site is in the best state to drive your online business. We've experience in a range of CMS's and nothing is too much of a challenge.
Can we help you?
If any of the above resonates with your business, the time to act is now. Despite premises being closed, the internet never stops and your customers are still looking for ways to buy your products and make the most of your services.
If we can assist you in taking your business into the digital arena, we encourage you to get in touch with us.