SEO Vs PPC - Which one is better for you?

Posted by Netmatters Ltd
21st July 2015
What are they?
SEO and PPC are two methods of search marketing that attempt to get more traffic flowing through onto your site. Most organisations in the current day have acknowledged that online marketing is fundamental, with the focus being heavily on the search engines more than anything. The idea of search engines being so fundamental to a brands online presence is driven by the basic factor that 81% of users find a website that they are looking for by going through a search engine instead of going direct.
This is the reason that companies are so eager to have a strong presence in the search engine world, because being on the front page of a search gets huge traffic benefits compared to those on the lower pages. Appearing in front of your audience on Google however can be achieved in two ways, one being SEO and one being PPC. SEO is the process of increasing your sites quality to make it rank higher in the organic searches in Google, and PPC is paying for your site to appear on the top of the Google page for certain search terms and then paying for every click that the advert gets, hence the name PPC (Pay Per Click).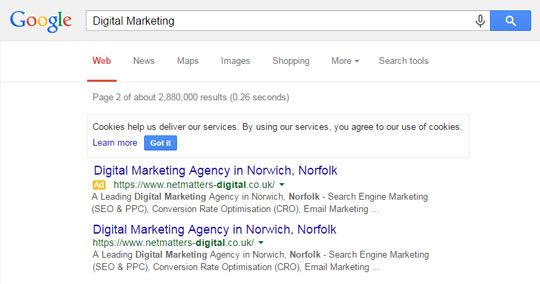 What are the main differences?
SEO is a method of increasing your sites natural organic search rankings, which means in general increasing the quality of your site. There are a lot of different aspects to SEO and it is not necessarily a quick process, it can be a slow at times, but it is worth the investment in the long term. SEO requires a lot of expertise and resources, so do not expect to be appearing at the top of Google for the keyword terms you want straight away. Also SEO is much more challenging if there is a lot of competition in your market area, or if there are well established competitors that have a strong digital brand campaign that is already in place. Regardless of the fact that you may take a long time to get to the top of Google's organic results for a certain keyword term, SEO still increases your brand authority and will increase the quality of your site.
SEO is a longer term strategy, and if you do manage to get to the top of search engines for the terms that you set as goals before you started performing SEO on your site then all of that traffic has come at the same price as it was for you when you started the service. When you are at the top of Googles organic search results then naturally you will develop a significant brand authority very quickly, and the increased traffic can only lead to more sales allowing further brand building to be carried out.
PPC is completely different, it can be as effective as SEO when used correctly. With PPC the focus is completely different, this does not mean that the customer quality will be less. It just means that there is more to maintain with certain target keywords and you have to ensure that you are targeting the right audience. With PPC you can appear on the first page on Google in the paid searches area within a day which is brilliant for brand awareness. To get the right sort of traffic through this method can be difficult and should be managed vigorously.
Of course PPC is more expensive than SEO with the price per click being anywhere from a few pence to more than £50. So, if a PPC campaign is done correctly then it can be expensive but extremely effective as well. Furthermore, paid searches are not always as effective as organic results, with organic searches being clicked on 850% more than its paid counterparts. PPC results have a very slight edge in the way that they generate a conversion rate that is higher than SEO, with general conversion rates of paid searches being 1.5x higher than that of organic searches. The conversion marketing side of things has always mattered hugely to most businesses, but overall the higher conversion rate of PPC vs SEO still does not make up for the huge decrease in traffic when comparing the two.
If you have managed to market your SEO campaign perfectly it has the potential to be around 500% more effective than PPC. PPC can be a short or long term solution, it is dependent on what you are selling and how you are selling the product or service. PPC is very good at providing an instant boost, with the ability to appear on the first page of Google for multiple keyword searches in Google almost instantly. PPC has to be done right to be effective and if it is done wrong then you will find yourself paying money for the advertisements with no return on investment.
Which one is better for you?
This depends on what you are looking for. With SEO you are making a long term investment into the overall improvement of your brands online presence. However, if you are in a very competitive market you may struggle to even rank in the first page on Google. It is very subjective and dependent on what the different keywords are, it is always good to keep on top of your SEO though because one day your website may just fly up the Google rankings and into the top 5 listings. With PPC you can either make a short or long term investment to instantly create brand awareness for your business. If the campaign is set up up correctly, you should then receive high quality leads through your site.
PPC is for anyone that is happy to invest their money in their brand and wants instant recognition for the chosen keywords. SEO is more of a slow build, long term scheme but can be seen to generate higher quality leads by organically ranking high in Google. For the best results, using both PPC & SEO methods correctly will generate high quality traffic and more business through your site.