Posted by Bethany Shakespeare
11th February 2021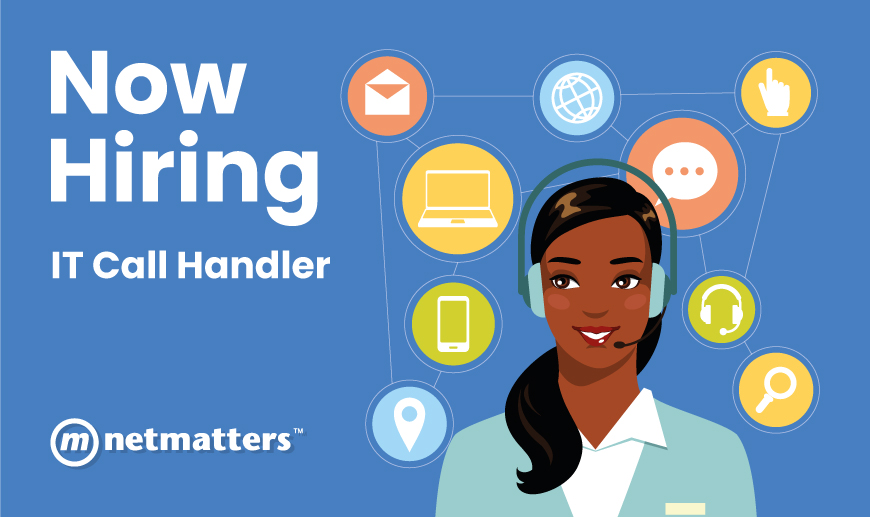 Hours:40 hours per week, Monday - Friday
Location: Wymondham, Norfolk
Netmatters is a rapidly growing full-service technology Agency offering software development, website development, IT support & consultancy, Telecoms, Digital Marketing, and technical training.
This is your chance to join the team, and to work with creative, hard-working individuals in a fast-paced, energizing environment to help further develop our business.
As an IT Call Handler you will be:
Good on the telephone and organised
Diligent, tidy, endowed with common sense and the ability to take responsibility.
Consistent and able to complete tasks thoroughly, applying intelligence and broader understanding where necessary.
Good under pressure, punctual, and flexible.
The successful candidate will work with the Service Manager to help manage incoming IT support requests taking down sufficient information for tasks to then be passed to the technical team.
Your day to day responsibilities:
Stock and goods in management
Supporting the Service Manager with day to day duties
Providing holiday cover for other staff
The ideal candidate would:
Be ambitious and want to succeed
Be a very positive person who loves a challenge
Have strong organizational and analytical skills
Have the ability to work under pressure to meet deadlines and required quality standards
We are working in line with the Government Kickstarter scheme on this particular role. The £2 billion Kickstart Scheme will create hundreds of thousands of new jobs for young people across the country. These roles are open to those aged 16-24 who are claiming Universal Credit and at risk of long term unemployment. In order to apply for this role, you must be registered with the DWP. Contact your DWP works coach in order to register your interest. We cannot take applications directly.