Happy 30th Birthday Matthew!

Posted by Netmatters
28th February 2020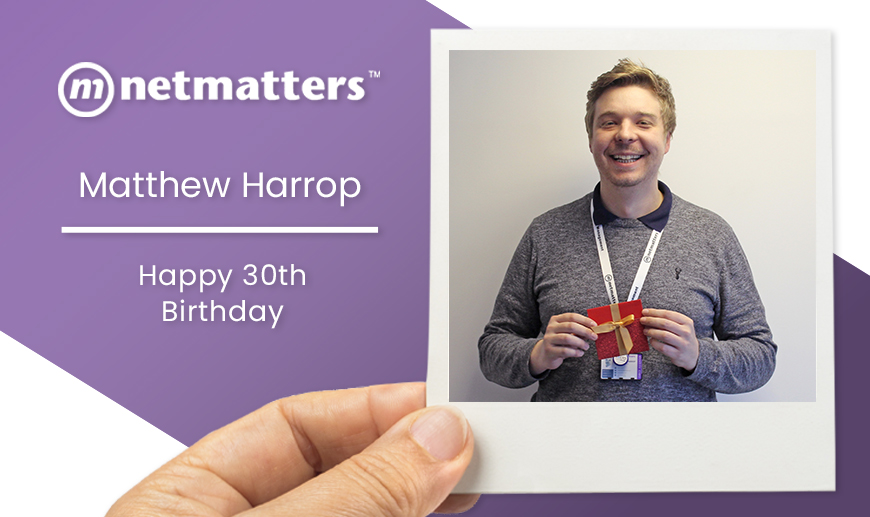 Happy 30th Birthday Matthew!
Matthew Harrop joined us in 2018 and since then he has cemented himself as an integral part of the project management team. He consistently completes work to the best of his ability, keeping the IT projects in check.
"Matthew plays a key part in our project management team. He has done a great job picking up his role of IT Project Manager and always provides useful feedback on how we can improve the department. Happy birthday Matthew!" - Tom Lancaster - Projects Director
At Netmatters, we like to make a big deal out of notable birthdays and other milestones in the lives of all members of our team. We also like to take this opportunity to promote individuals' hard work and contribution to the company - it doesn't go unnoticed!
So, thank you to Matthew for his commitment and for continuing to go the extra mile for his clients and the company. We wish him the happiest of birthdays!
Think there could be a career in IT support in your future? Take a look at our current job opportunities for more information. We are always on the lookout for young, fresh talent at Netmatters. If you're passionate individual and you think you'd be in your element at one of the most progressive tech companies in East Anglia, get in touch today via the form below or us on 01603 515007.