Happy 25th Birthday Matt Reynolds!

Posted by Netmatters
23rd July 2020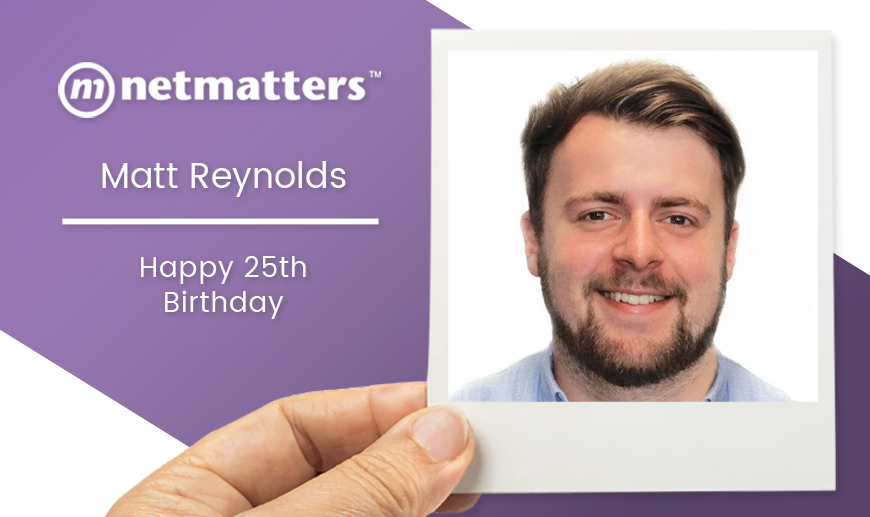 Matt joined the digital team at Netmatters in June 2019 as our Graphic Designer. Over the last year, he has become an integral part of the team, sharing his artistic skill across the board, whether designing a website concept, advert or presentation. Matt works hard to deliver for his clients and works closely with colleagues around the business to see his vision come to life.
"Matt has taken on our client design work with ease, working closely with the SEM team and client to provide quality design for their website, social media campaign etc. He's always at hand to help the team where needed and has become a key member of the digital department. Happy Birthday, Matt!" – Lydia Whitney – Digital Marketing Manager
At Netmatters we like to make a big deal of notable birthdays and milestones in the lives of all members of our team. We also like to take this opportunity to promote individual's hard work and contribution to the company – it doesn't go unnoticed!
So thank you to Matt for bringing his creativity to work every day, for delivering fantastic designs for all of our clients and for his role in the digital department. We wish him the happiest of birthdays!
Think there could be a career in Digital Marketing in your future? Take a look at our current job opportunities for more information. We are always on the lookout for young, fresh talent at Netmatters. If you're passionate individual and you think you'd be in your element at one of the most progressive tech companies in East Anglia, get in touch today via the form below or us on 01603 515007.