Business Development Sales Administrator

Posted by Elliott Peacock
31st January 2019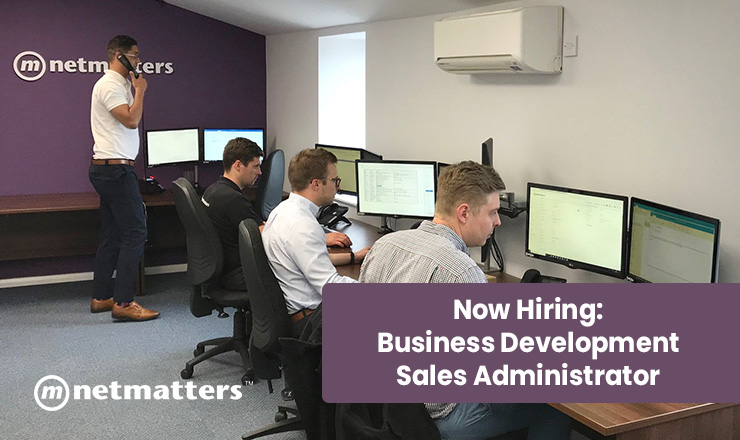 Netmatters is a rapidly growing technology company offering a diverse range of products and services.
This is your chance to join the team, and to work with creative, hard-working individuals in a fast-paced, energising environment. Team members are expected to work hard and deliver results based on a proven system for managing work and time. Team members benefit from a generous bonus scheme based on company and personal performance. This position has been created to help the Business Development team reach new goals, and drive the company into new successes.
Business Development Sales Administrator will be available to ensure all admin created by Bus Dev is looked after and to keep the team moving smoothly. Account Managers can be pulled away at short notice and a sales administrator can ensure there is no backlog of workload for when they return.
Salary: £17,000 - £21,000 per annum + Bonus
Hours: 40 hours per week, Monday - Friday
Location: Wymondham, Norfolk
In this role you will:
Telephone answering
Maintaining tidy working environment
Generating Reports
Managing own KPI's
Document management
Sorting Bus Development emails as delegated
Talking with customers - taking messages & resolving minor issues.
Maintain the ongoing account relationship to maximize future growth opportunities.
Make warm sales calls to existing customers in order to up sell products and services
Be focused on Quote Creation/ Business Development/ Client Relationship management.
Through a committed approach towards delivering innovative sales performance, achieve personal targets for new business and customer retention.
Working closely with the Business Development Director to ensure all KPI's are met.
Anything required from the Business Development Director.
The Ideal candidate would be:
Confident.
Organised.
Sociable.
Resourceful.
Flexible.
Loyal.
Good computer skills.
Able to achieve results.
Able to understand and recognise the greater good of the company.
Excellent interpersonal skills.
Building relationships.
Dynamic, enthusiastic & passionate to achieve.
Reliable and Consistent.
* - These benefits become available to you once you have served 3 months of continuous employment.
Young Person Looking for Work?
Nearly 40% of our team are young people - we have a proven track record of hiring, working with and giving great opportunities to young people. Our growing, vibrant team is always on the lookout for fresh new talent. In the past we've taken on apprentices who have gone on to stay here full time – we've offered young people the chance to spend time in each of our departments to get a feel for what they may want to do.
If you are interested in becoming a part of the team, please email your CV and covering letter by clicking here.