Posted by Netmatters
2nd July 2020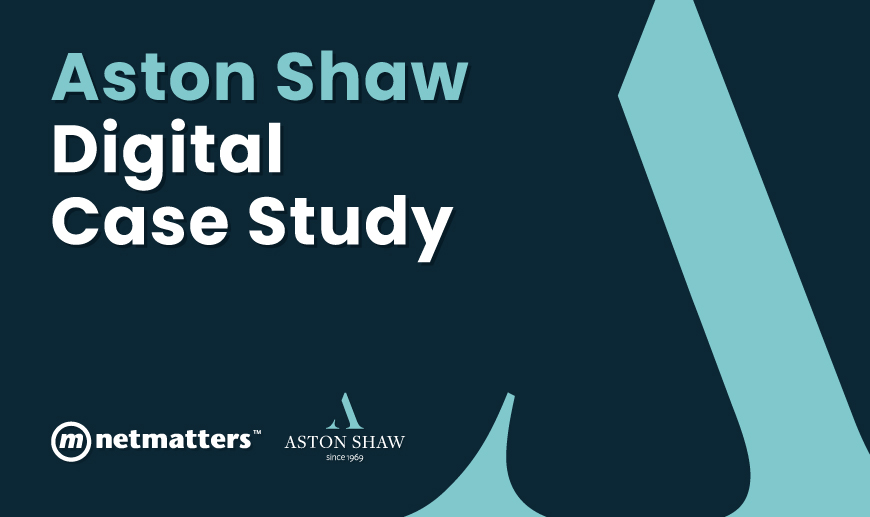 Digital marketing never stops evolving. As technology changes and new trends emerge, you must adapt your strategy to ensure your marketing efforts are maximised. What worked previously, may not be doing the most to drive your business forward any more.
Our client identified this issue within their organisation and approached us to review their digital marketing efforts and create a strategy that aligned with their objectives.
The Client: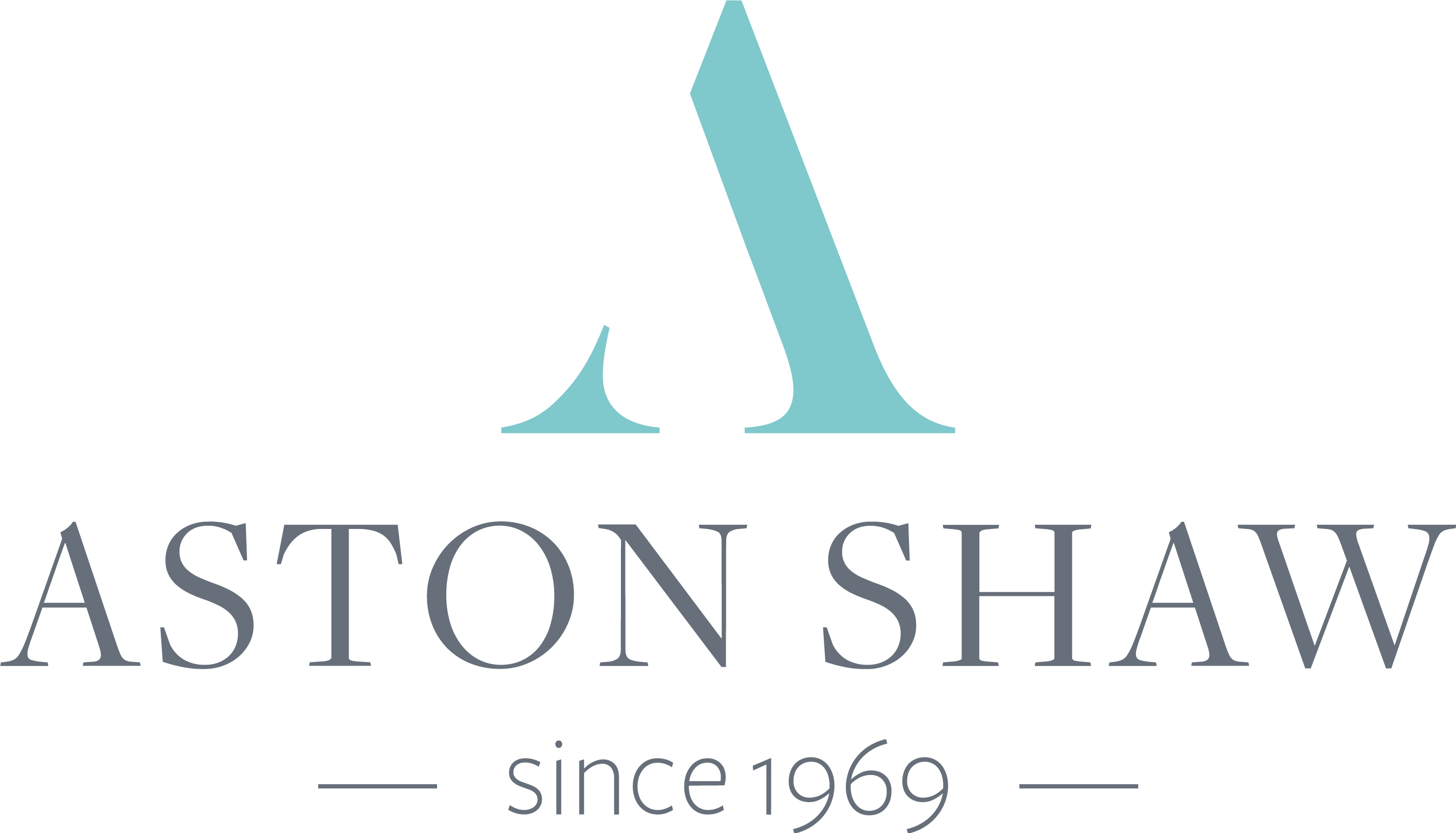 Aston Shaw are local and friendly accountants, auditors and advisors that have been trusted and recommended since 1969. As chartered certified accountants, they specialise in accountancy, tax and business advice to businesses and private individuals. The award winning team are spread across six regional offices.
Their zero-jargon, fixed-fee service has established them as market leaders in their industry, allowing them to expand over the last 50 years and create lasting relationships with businesses and individuals alike.
At the end of 2018, Aston Shaw decided it was time to take a look at their marketing strategy and objectives to determine how effective this was in driving the business forward and that's where we came in.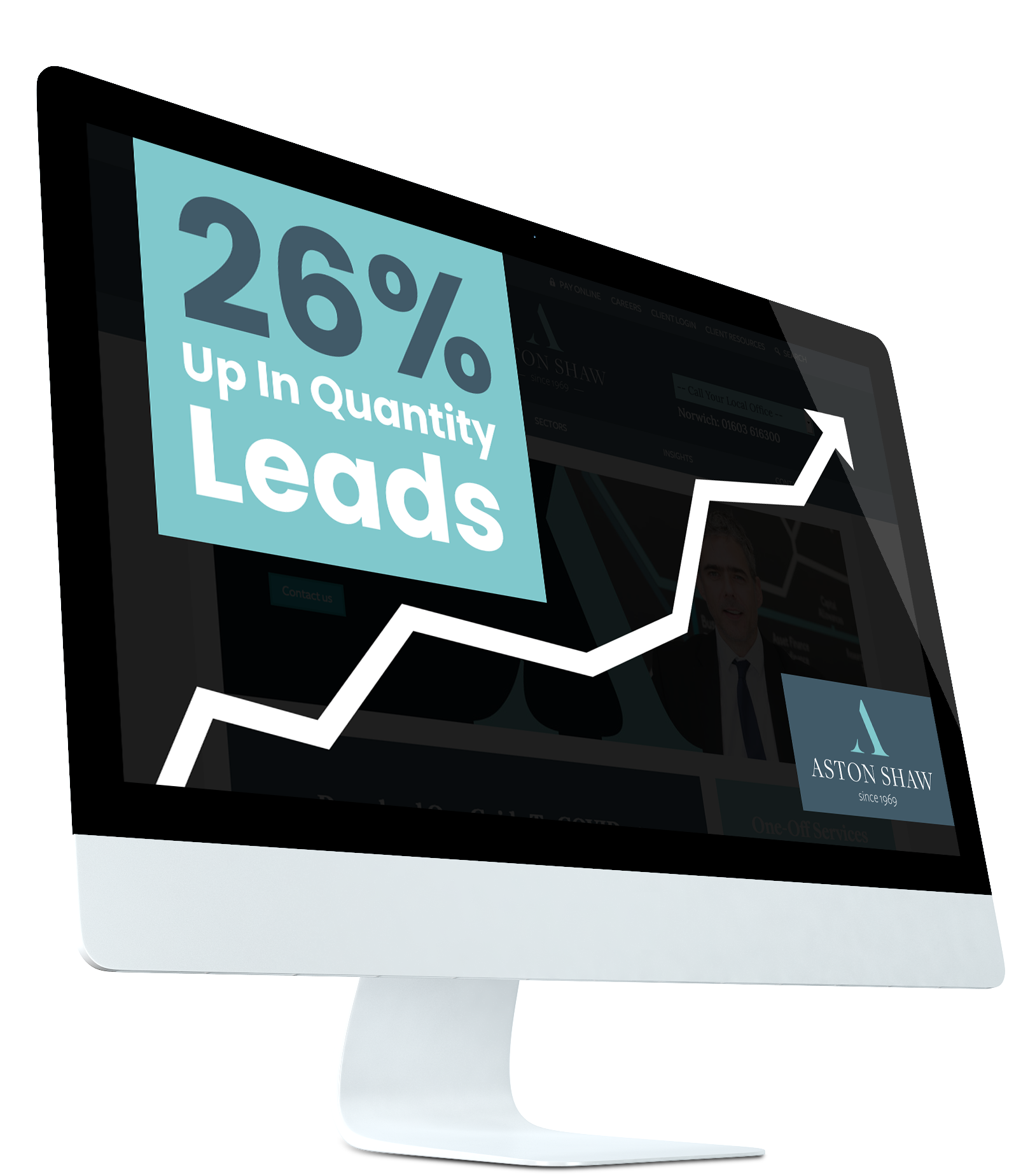 The Problem:
Despite already being highly established in the local area, the main issues that Aston Shaw were facing was the cost of their marketing and advertising in comparison to the quality of lead that was being delivered through the website.
Over a 12 month period, they established that although a large volume of traffic was arriving at the site, the rate of conversion was low and the meat of the enquiry did not deliver a 'win' for the business.
Coinciding with this, their marketing budget was substantial, driving the cost per conversion higher than they would have liked through untargeted Pay-per-Click campaigns. In short, creating minimal amount of business for the maximum budget they could allow.
It was also key for the client that their presence was known across the region, targeting key customers at locations close to all of their offices to maximise potential business in those areas.
The client were not utilising opportunities to really highlight their expertise and therefore leaving them open to losing on business in these important areas.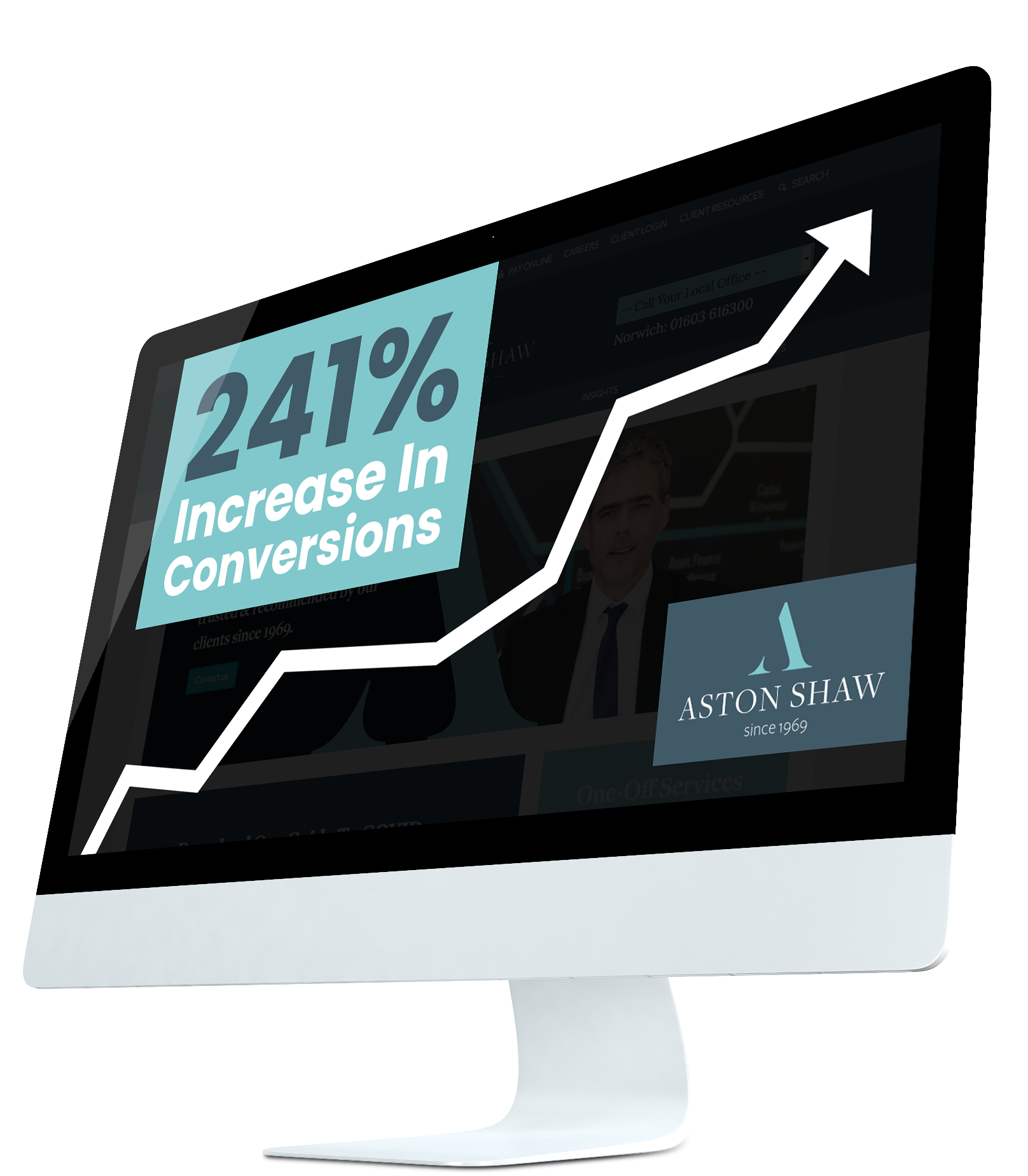 What we did:
The first step for us was to identify the areas in which the client wasn't happy with their current activity. In this instance, this was the Pay-per-Click campaign that had been implemented.
We reviewed the entire campaign to determine the current set up. This meant looking at ad groups, chosen target keywords, location radius, budgets and the strategy that had been implemented. We also wanted to assess the landing pages that each ad was being guided to and how relevant that would be for both the end user and driving conversions.
We quickly established that optimising the ads was the priority. Following a detailed discussion with the client, we developed key areas that we wanted to target and the demographic we were looking to interest. This involved extensive keyword research, competitor analysis and A/B testing to determine what would resonate best with the audience.
It was also important that when users landed on the website, they were greeted with the appropriate messaging, ensuring they engaged with the content which would in turn, drive more conversions. Again, the key here was keyword research and competitor analysis. It allowed us to look for areas that were missing in the content and ways to better highlight the service in a way that resonated effectively with the audience.
As a technically led agency, a primary focus for us was also to maintain and monitor the health of the website overall. Using specific tools, we looked at broken links across the site, redirects, page load speeds and conducted a full backlink audit to monitor the health of the website from a Google ranking perspective and how effectively the website would work for the end user.
Throughout the process, we worked closely with Aston Shaw's own marketing team, providing support and training where appropriate to achieve the overall objectives of the business.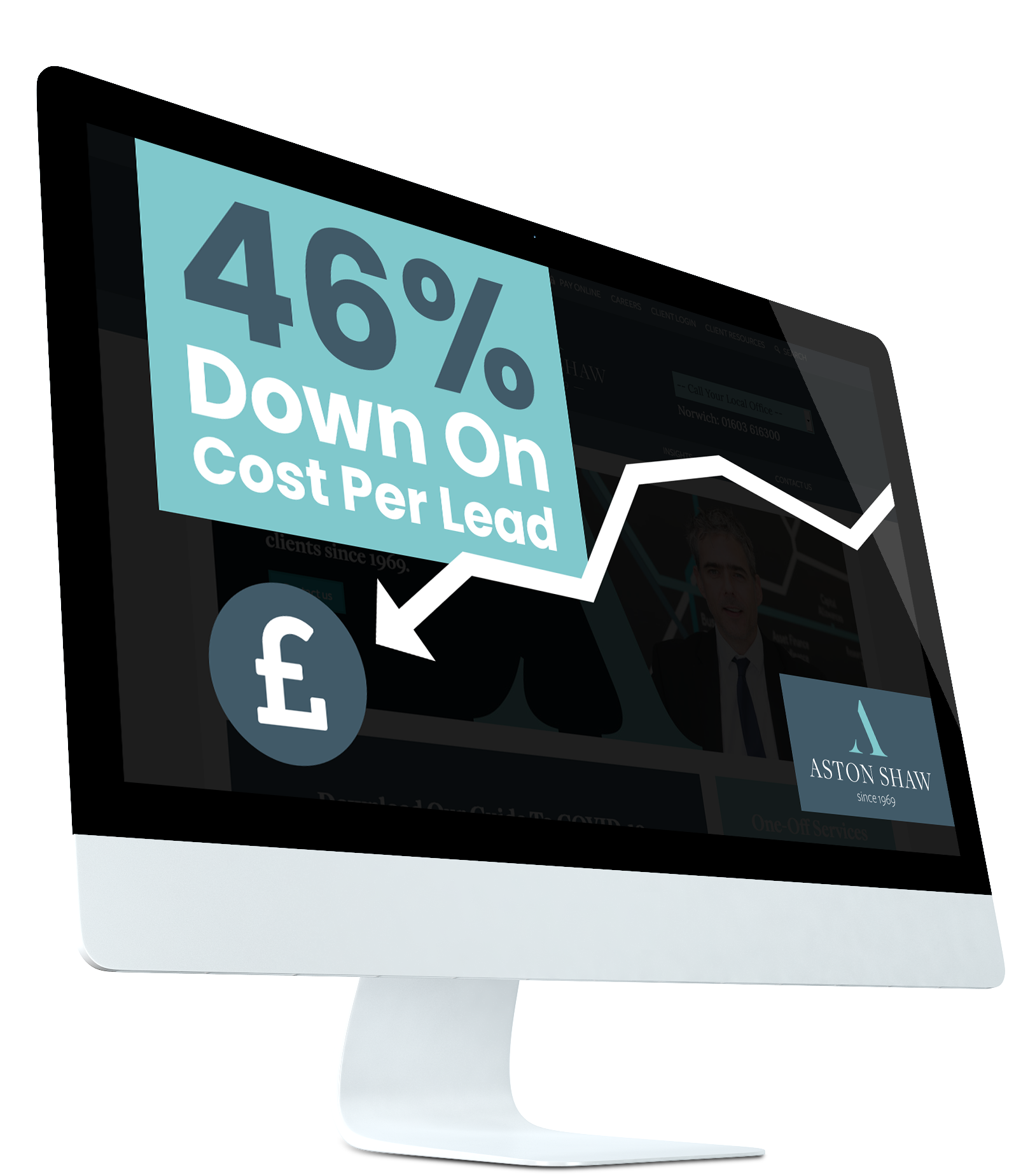 The Results:
Over the course of the last 12 months, we have seen a dramatic difference in the overall activity of the pay-per-click campaigns with conversions increasing and cost per conversion decreasing steadily. When we first took hold of the advertising account, we were seeing a CPC of over £75 for around 15 conversions, whereas now, on average, we are seeing a CPC of around £42.00 with almost triple the conversions.
These highly targeted campaigns are now reaching audiences in other areas across East Anglia, driving enquiries across all areas of the business.
Aston Shaw also has dominance in impression share, sitting at a comfortable 46% ahead of their nearest competitor.
We have seen a 40% increase in traffic arriving at the Aston Shaw website. On average we are seeing users spend almost two minutes on the site and a steady flow of goal completions including contact form submissions and phone number clicks, allowing customers to easily engage with the business and Aston Shaw to understand how their customers get in touch.
Whilst paid advertising is important to the overarching strategy of Aston Shaw's marketing, for us, the focus was driving organic search. In the last year, we have seen organic search increase by almost 25%, driving us higher up Google Search results and putting Aston Shaw in front of more people than ever before.
Re-evaluating on page content and looking for areas of improvement allowed us to boost the discoverability of the website through targeted keyword activity. As a result, we have seen visibility of the site improve by almost 5% with our average position in search results also improving by 6 places. This means, Aston Shaw have 45 target keywords in the top 10 position when customers search for these key terms.
Regular health checks have also allowed us and Aston Shaw to work towards improving the overall site score. Whilst our benchmark is 85%, we have managed to take the Aston Shaw site from 83 to 91% across the last 12 months, providing the most effective user experience site wide.
The combination of all the above are the driving force behind an effective marketing strategy that works with other areas of the business to deliver on all chosen objectives and KPI's for Aston Shaw as a business.
We are pleased to have had the opportunity to work with Aston Shaw and their marketing team to be able to help to deliver a tied up solution to their identified problem and we look forward to continuing our relationship throughout 2020.
How we can help your business:
Our process is simple, we work with our customers to understand exactly what is required and how we can help them achieve it.
If your business is in the market for additional digital marketing support, we encourage you to get in touch with us using the contact form below to get the ball rolling.
So far in what's been considered an 'interesting' decade, more and more businesses are understanding...
Read More

Posted by Netmatters
23rd May 2022
Careers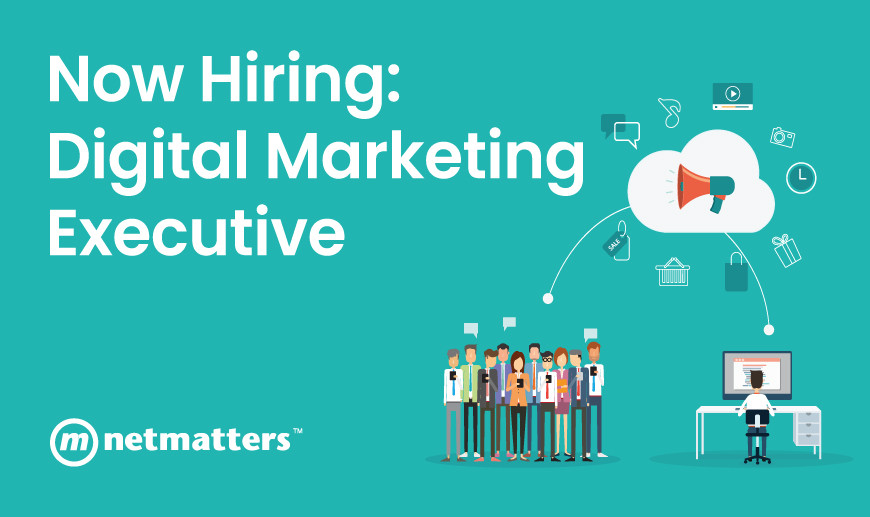 Salary Range £23,000 - £28,000 per annum + Bonus Hours 40 hours per week, Monday - Friday Location W...
Read More

Posted by Lydia Whitney
19th May 2022
Salary Range £28,000 - £38,000 per annum + Bonus Hours 40 hours per week, Monday - Friday Location W...
Read More

Posted by Lydia Whitney
19th May 2022